Rebel forces and NATO warplanes launched strikes on the Libyan capital, Tripoli, over the weekend in an apparent bid to break the military stalemate that has kept embattled leader Moammar Gadhafi in power despite months of civil war.
The NATO alliance confirmed that its planes launched seven airstrikes on a military command center in Tripoli early Saturday morning.
"NATO can confirm that we targeted military objectives in Tripoli this morning," an alliance official told the news agency AFP. Gadhafi loyalists, however, said civilians had been targeted.
Rebel forces, meanwhile, claimed to have launched an assault on a command-and-control post inside Tripoli in which a high-ranking Libyan official was "seriously injured."
"In Tripoli, there was an attack on an operations center on top regime officials, including Seif al-Islam Gadhafi," National Transitional Council Vice President Ali Essawy said after a meeting with Italian Foreign Minister Franco Frattini in Rome.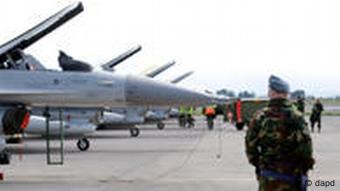 NATO warplanes have proven unable to push Gadhafi from power
Officials loyal to Gadhafi denied the rebel attacks in Tripoli and denounced recent NATO airstrikes on the eastern oil port of Brega as "criminal and unjustified."
Resistance negligible
Rebel forces claim to have essentially secured Brega after a months-long tug-of-war with Gadhafi loyalists.
"The only thing that is holding back the free Libya forces are the mines," military spokesman Colonel Ahmed Omar Bani said.
"Removal of these mines is a process that will take a few more days. As far as any resistance inside Brega, it is negligible."
Rebels and loyalist forces also clashed in the city of Zliten, the last urban area on the road between rebel-held Misrata and Tripoli. The rebels reported that 16 of their fighters were killed.
Libyan has been locked in a state of civil war since anti-government demonstrators rose up against Moammar Gadhafi's regime in February after a wave of uprisings toppled the governments in neighboring Tunisia and Egypt.
NATO began launching airstrikes to ostensibly enforce a UN-sanctioned no-fly zone in March and many Western nations have since recognized the rebel Transitional National Council as the representative of the Libyan people.
Months of stalemate, however, have led to speculation that only a negotiated solution can end the conflict. American officials met with the Gadhafi regime last week.
Author: Spencer Kimball (AFP, Reuters)
Editor: Andreas Illmer