NATO's 26 foreign ministers toughened their stance against Russia at an emergency meeting called by the United States on Tuesday, Aug. 19.
"We have determined that we cannot continue with business as usual," the 26 NATO foreign ministers said in a joint statement following talks in Brussels. "We call on Russia to demonstrate -- both in word and deed -- its continued commitment to the principles upon which we agreed to base our relationship."
Russia is not respecting the peace plan agreed by President Dmitry Medvedev, NATO Secretary General Jaap de Hoop Scheffer said Tuesday after a meeting of the alliance's foreign ministers.
"The future of our relations with Russia will depend on the concrete actions Russia will take to abide by the words of President Dmitri Medvedev... which is not happening at the moment," he told reporters.
The NATO foreign ministers also agreed to create an additional NATO-Georgia Commission to strengthen relations with Tbilisi. Scheffer said the commission would function in a similar manner to an 11-year-old arrangement with Ukraine but would not prejudge Georgia's prospects of entering the alliance.
Dialogue remains important
NATO, however, seemed unlikely to take drastic action, such as cutting off dialogue with Moscow.
Russia needs to learn that it cannot use force to change the borders of its neighbors, British Foreign Minister David Miliband said ahead of the meeting.
However, "I'm not one who believes that isolating Russia is the right answer to its misdemeanors. I think that the right response is hard-headed engagement," he said, without specifying how he would want this put into action.
Russia agrees to monitoring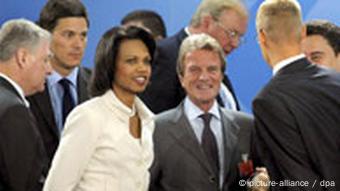 The US organized the emergency NATO meeting
The Organization for Security and Cooperation in Europe (OSCE) will immediately dispatch 20 unarmed observers to Tbilisi, after Russia reportedly agreed to the monitoring mission Tuesday morning.
The organization's team will supplement the current nine OSCE observers already based in South Ossetia, Finnish Foreign Minister Alexander Stubb said, speaking on the sidelines of the NATO meeting.
The OSCE had previously said it wants to send an additional 80 monitors to the area in the next few days. Both Russia and Georgia are members of the OSCE. Georgia has also agreed to the mission.
Germany demands troop pullout
On Aug. 8, Georgia launched a military offensive against its breakaway region of South Ossetia. Russia has long provided military support to the province, which wants complete independence from Georgia.
Moscow put a stop to the Georgian operation, sending troops, tanks and warplanes into the area. Both sides have signed a ceasefire agreement, but the situation remains tense and there were no signs Tuesday that Russia was withdrawing its troops as promised.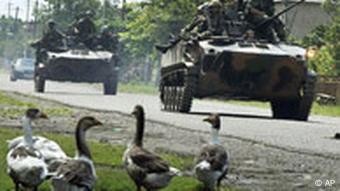 Russia has not yet left Georgia as promised
Germany has called on Russia to pull back its troops "at least from the heart of Georgia," German Foreign Minister Frank-Walter Steinmeier said Tuesday as he arrived at the NATO meeting.
Steinmeier did not say exactly what he meant by the "heart of Georgia" but the reference could be taken to mean all Georgian territory apart from the two separatist regions of South Ossetia and Abkhazia.
"The most important thing at the moment is to consolidate the situation which is still fragile and to bring about a lasting ceasefire," Steinmeier said as he arrived for a meeting of NATO foreign ministers in Brussels.
Russia has engaged to withdraw its troops from Georgia but there was no sign on Tuesday of that happening, the Georgian Interior Ministry said.
Georgia remains on NATO path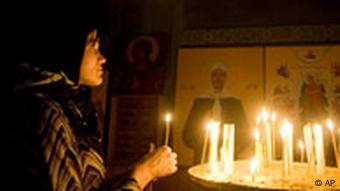 Georgia and Russia have agreed to a ceasefire
Germany's coordinator for Russian politics, Andreas Schockenhoff, reiterated Tuesday that Germany will not change its position on Georgia's eventual membership into NATO.
Chancellor Angela Merkel has made it clear to both sides that Germany will support the Membership Action Plan extended to Georgia in April, a step towards Georgia's eventual membership into NATO.
"Georgia can become a member of NATO," Schockenhoff said in an interview in Tuesday's edition of the Berliner Zeitung newspaper. "Russia does not have veto rights."
But Schockenhoff also reiterated that Georgia will not become a NATO member until it has resolved the issue of its internal borders.