Wolfsburg 1 - Napoli 4
(Bendtner 80' - Higuain 15, Hamsik 23' 64', Gabbiadini 77')
On his 55th birthday, Napoli's coach Rafael Benitez could hardly have wished for a better present in Wolfsburg on Thursday night. In the end his team completely dominated a fixture that was expected to be a close one between two evenly-matched sides.
Still, the game started in controversial fashion as Gonzalo Higuain opened the scoring for the guests. Replays showed that he was slightly offside and controlled the ball with his arm, before his exquisite strike. But, the referee awarded the goal nevertheless.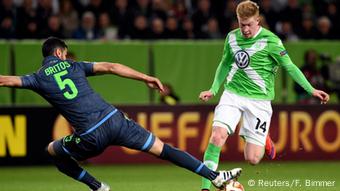 Kevin De Bruyne had little impact in the game
Napoli's second goal - from the team's mohawked midfielder Marek Hamsik - was more clear cut though. Again, it was Higuain who set up the play in the 23rd minute, and Hamsik just needed to slot the ball home.
In the second half, things went from bad to worse for the hosts. Napoli's captain Hamsik scored his second in the 64th minute, before Manolo Gabbiadini struck again in the 77th.
A goal from Wolfsburg's Nicklas Bendtner against the run of play in the 80th minute, didn't lead to anything more and the game ended 4-1. Germany's second best team at the moment in the Bundesliga, will now need a minor miracle away in Italy next week if they want to progress through to the next round of the competition.
In other Europa League matches on Thursday night, defending champions Sevilla came from behind to grab a 2-1 win. Elsewhere, Fiorentina scrambled to a 1-1 draw against Dynamo Kyiv, while Club Brugge versus Dnipro Dnipropetrovsk ended goalless.