Ever since Mo Ibrahim the Sudanese telecom tycoon founded the Mo Ibrahim Prize for Achievement in African leadership in 2007, only three former presidents have clinched the award: Joaquim Chissano of Mozambique in 2007, Festus Mogae of Botswana in 2008 and Pedro Pires of Cape Verde in 2011.
Former South African leader Nelson Mandela was named the inaugural honorary laureate in 2007. In 2009, 2010, 2012 and 2013, no African leader met the criteria set by the prize committee.
Announcing the 2014 award in Nairobi on Monday (02.03.2015) - which went to Namibia's outgoing President Hifikepunye Pohamba - the Mo Ibrahim prize committee stated in a press release that President Pohamba's focus in forging national cohesion and reconciliation at a key stage of Namibia's consolidation of democracy and social and economic development had impressed the comittee.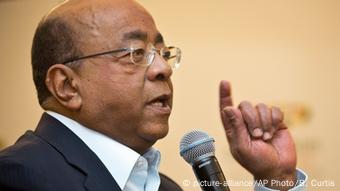 Mo Ibrahim says he was impressed by President Pohamba's leadership
They also commended Pohamba's ability to command the confidence and trust of his people. "During the decade of his presidential mandate, he demonstrated sound and wise leadership. At the same time, he maintained his humility throughout his presidency," the statement said.
A member of the prize committee, Dr. Salim Ahmed Salim said in an interview with DW that President Pohamba had improved the standard of living for his people. "Namibia is a small country but with abundant natural resources. During his term in office those resources were properly managed," said Salim, former secretary general of the Organization of African Unity (OAU).
According to Salim, Pohamba also played an exemplary role in dealing with other social problems such as HIV. Namibia is among the countries with a high rate of infection. "He has improved education and has done a lot of good for his country with integrity and modest manner."
Right choice
Graham Hopwood, Executive Director of Namibia's Institute for Public Policy Research (IPPR) told DW in an interview he wasn't surprised by Mo Ibrahim's decision to pick Pohamba. "There are not many candidates who are departing or have left office in the last few years," Hopwood said.
For a leader to win the prize, he or she must have been democratically elected and serve only the constitutionally mandated term while displaying "exceptional leadership."
Pohamba, 79, was first elected president in 2005. He is due to hand over power to Prime Minister Hage Geingob on March 21, in line with the constitution. This also makes him eligible for the award. Geingob won last December's elections by a landslide. Election observers said the polls held under Pohamba's leadership were free and fair.
December's election in Namibia was Africa's first e-vote
Though more and more elections are being held in Africa - a sign that the continent is slowly becoming less unstable due to military coups - several leaders such as Angola's Jose Eduardo Dos Santos and Cameroon's Paul Biya have stayed in office long after their original mandate expired. Last year Burkina Faso's Blaise Compaore was forced out of power by a popular uprising after trying to prolong his stay in power through constitutional changes.
Tolerant leader
"President Pohamba is not the traditional stereotypical African big man wielding a big stick," said Hopwood who formerly worked for the Namibian Institute for Democracy and also as a journalist for The Namibian newspaper. "He's very much into consultations and has allowed democracy to flourish," Hopwood said.
Namibia is credited for being one of the few African countries with a free press. "Nobody has been arrested during Pohamba's tenure for expressing an opinion, protest or civil society actions," Hopwood said.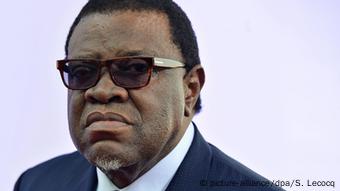 Namibia's Prime Minister Hage Geingob will succeed Pohamba
Pohamba has had good relations with Namibia's opposition and is not antagonistic, Hopwood told DW. "He meets with the opposition regularly even though his party SWAPO has the overwhelming majority in parliament."
Pohamba was a founding member of the ruling South West African People's Organization (SWAPO). He and Namibia's founding president Sam Nujoma played a key role in the struggle for independence from South Africa. Prior to becoming president, Pohamba was minister for home affairs and also marine resources.