DW: SWAPO, Namibia's liberation movement turned ruling party, is expected to be returned to power. In 2009, SWAPO garnered 75 percent of the vote. How big a challenge is the opposition expected to mount to SWAPO this time round?
Henning Melber: The opposition is as big as it used to be - which means it hardly is any challenge. If there is any challenge for SWAPO and its dominance, then it is the failures of delivery by SWAPO itself.
There is a quota system in place to get more women into parliament. What can you tell us about this?
SWAPO took a so-called "zebra" decision a year ago which meant that their own electoral list is comprised of men and women in equal numbers. That means half of the SWAPO members of parliament to be elected will be female.
So this is an effective contribution to gender equality then?
It certainly is, despite the fact that some of the old folks in SWAPO, meaning the old men, seemed to have regretted it afterwards. This was one of the reasons that the members of parliament expanded from 72 seats to 96 seats to allow more male candidates from the SWAPO party list to become or rather continue to be members of parliament, as from March 2015 onwards.
These elections are going to be carried out with Indian-made electronic voting machines. There was an opposition challenge to this - why?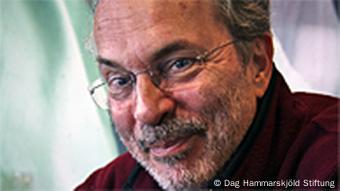 Henning Melber is a German-Namibian political scientist
According to the electoral act which was adopted in August this year, those voting machines, to avoid the impression or suspicion of manipulation, should also have a paper tray. What was unknown when the electoral act was endorsed was that the machines delivered by India are technologically not yet up to standard and were without any paper trays. That was the reason for the biggest opposition party to launch an urgent appeal in the court which was dismissed because they wanted to postpone the elections with the argument that in the absence of the paper tray the conditions as stipulated in the electoral act are not met.
Are Namibians or the authorities in that matter anticipating any technical problems?
It's difficult to predict. These will be the first EDV machine elections on the continent and one would actually not know really if there are any technological problems. What was known was that, by the beginning of this week, the electoral commission of Namibia was still lacking 800 vehicles for the ordinary conduct of the elections. They had up to then 2,200 vehicles and they require another 600 or 800 vehicles within the next days. So, that seems to suggest - also based on previous experiences - that the Namibian electoral commission is not always up to standard and one cannot predict really what flaws or hiccups or any other unforeseen errors might occur.
Hage Geingob, the SWAPO candidate and current prime minister, is tipped to become the next president. What do Namibians expect from him?
They would expect from him smooth and good governance, guided by competence and in the interest of the people. But it is another question if he is delivering that. Hage Geingob has the image of a technocrat but he is also known for finding pleasure in a luxury life and he also sees no conflict of interest in acting both as a member of parliament and running a private consultancy, doing business with big mining companies. So there are second thoughts if the good governance and the fighting of corruption which the Namibians would expect will be delivered under a presidency of Hage Geingob.
Namibia is a former German colony. How would you describe present-day bilateral ties with the former colonial power?
They are ambiguous because on the one hand the German government, with reference to their colonial ties or historical ties as they would call it, is the main provider of so called development cooperation and monetary aid. But on the other hand the local minority as well as the German government find it very difficult to address the necessary admission of guilt as part of genuine reconciliation when it comes to the still unresolved issues related to the genocide committed by the German colonial power more than 110 years ago.
Henning Melber is a German-Namibian political scientist at the University of Pretoria and former director of the Dag Hammarskjöld Foundation in Sweden. He is a member of SWAPO.
Interview: Mark Caldwell