The elderly woman was beaten by a mob, which proceeded to parade her on the streets while chanting Allahu Akbar, local Coptic Church said on Wednesday.
"They burned the house and went in and dragged me out, threw me in front of the house and ripped my clothes. I was just as my mother gave birth to me, and I was screaming and crying," the woman told the Reuters news agency.
Also, the group of some 300 Muslim villagers ransacked and torched seven Christians' homes during the attack.
The violence was sparked by rumors that the woman's son was involved with a Muslim woman, according to the Anba Makarios, the top Coptic cleric in Egypt's Minya province. He claimed that the Christian family members had reported they were receiving threats before the attack last Friday.
"No one did anything and the police took no pre-emptive or security measures in anticipation of the attacks," Makarios told Egypt's Sada el-Balad television. "We are not living in a jungle or a tribal society. It's incorrect for anyone to declare himself judge, police and ruler."
The police did not arrive at the scene until almost two hours after the attack started.
According to security sources cited by Reuters, authorities arrested five men and the prosecutors ordered arrest of 18 more. Also, 10 members of Egyptian parliament proposed to cross examine Interior Minister Magdi Abdel Ghaffar over the incident.
'Disgrace' to stay silent
Coptic Pope Tawadros II called for restraint after authorities assured him they would "chase down the perpetrators and bring them to justice," the Coptic Church said.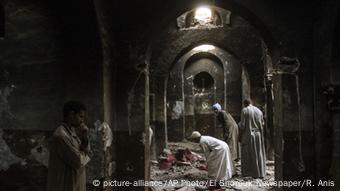 Dozens of Coptic churches have been torched in Egypt
Coptic Christians make up around 10 percent of Egypt's total population and 35 percent in the province of Minya, south of Cairo.
Premarital sex and extra-marital affairs are controversial issues in Egypt, even among members of the same faith. Also, Muslim men are allowed to marry Christian women, but Christian men would need to convert to Islam first.
In his TV interview, Christian cleric Makarios said that the response would be less violent if a Muslim man was having an affair with a Christian woman.
"It is a disgrace for honest men to remain silent while accepting, seeing or hearing this," he said.