Nigerian-born artist Emeka Udemba looked annoyed. The yellow Mercedes school bus, his new home for the next six weeks, should have long been rolling out of Lagos, Nigeria's biggest city. But the right tail light was missing its cover.
"You have to fix it or you create problems for yourself," Udemba told the driver. By problems, Udemba meant the police, who have a reputation for using any fault on a vehicle as a reason to stop it to collect a bribe. "Then you have to be creative to solve the problem," said Udemba, laughing.
The broken tail light probably won't be the only problem that the group of artists will encounter on their 10,000 km journey through seven West African countries from Lagos to Senegal and back again. The trip is expected to be an adventure, which is why they also have a mechanic on board. It's also a chance for an abundant exchange of ideas.
Artists residency with a difference
The six participating artists come from Nigeria, Ghana, Ivory Coast, Senegal and Germany. Some started from Lagos this week; the others will be picked up along the way as the rolling art space travels to Senegal's capital, Dakar. There, they'll attend the African contemporary art fair, Dak'Art, which is held every two years.
On their journey to Dakar, the artists plan to meet with people from all sorts of backgrounds and cultures. The idea is that these experiences will feed into art created on the tour. These works will then be exhibited on the return trip at cultural centers in Senegal, Guinea, Ivory Coast, Ghana, Togo and Nigeria.
The diverse mix of artists on board the bus is also deliberate.
"It will be a crazy exchange," said German photographer Gabriel Goller, as he loaded his bags onto the bus. "There are different artists who all do different things: sculptors, painters, artists who work more digitally, photographers like me. That's a nice mix. Something very creative will come out of this."
Read more about Africa's rising film industry
The trip has an important mission, says Friederike Möschel, the director of Germany's Goethe Institute in Lagos, which is supporting the tour, called 'Stretched Terrains', for the second time.
"It's really about connecting West African artists with each other. Unfortunately there is not enough exchange between them," Möschel told DW. "On one hand, this is because of language barriers between the English-speaking and French-speaking parts of West Africa. But there are also logistical problems: bad air connections, expensive visas, complicated journeys overland."
Monsuru Alashe knows first hand what Möschel is talking about. The Nigerian experimental artist and photographer took part in the last tour. Just driving from Lagos to the Benin border – a trip of only 100 km – took nearly ten hours.
"As soon as one checkpoint is over, the next one comes again," he said. "And they ask the same questions that others have asked. You waste so much time. That was very frustrating."
'Everyone needs culture - not just the rich'
The idea for the rolling art space stems from Emeka Udemba, who now lives in Germany, but still has strong ties to home. As well as an artist exchange, Udemba wants to bring culture to West Africans. He believes the best way to do this is with a mobile museum.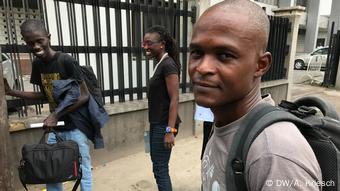 Emeka Udemba is also the curator for the art produced during the tour
"It could go to every part of the city. Everybody needs culture, everyone needs stimulation, so it is not just for the rich or the good areas," Udemba told DW while waiting for bus's broken tail light to be fixed.
"The idea of a museum today is not just to store stuff – it's also to discuss, it's a place for artists to experiment on new ideas. It is just like a meeting point for all kinds of society. So I am having such a platform where it can be brought everywhere," Udemba said.
After a two-and-a-half hour wait, the artists were finally able to board the bus. Seated in the front row, Udemba smiled with anticipation. The group's first destination: the infamous border crossing with Benin.