By leading his own military campaign against the Taliban, Afghan First Vice President Gen. Abdul Rashid Dostum (pictured above) is putting his life at risk. Earlier this week, he survived a Taliban ambush on the outskirts of Faryab, a northern province where the former warlord has been commanding an offensive against insurgent groups since late July.
Many consider Dostum a hero, saying his presence has boosted the Afghan security forces' moral. "Just two months ago, our district's capital was about to fall to the Taliban. But everything changed once Dostum got here," Farhad Qaisari, a resident of Faryab's Qaisar district, told DW.
"We've never seen any other politician do what he did. He left his Kabul palace a few months ago and has been living under hard conditions with his soldiers on the frontline ever since," Farhad added praising Dostum's ongoing military campaign.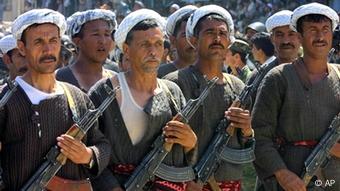 Former warlords such as Dostum have begun distributing unregistered weapons to what some claim are their personal militias
But the strongman vice-president remains a controversial figure, with his detractors accusing him of seeking to create a personal militia, which could potentially threaten human rights and undermine the central government in Kabul.
Speaking to DW, a member of the provincial council of the eastern provice of Khost criticized: "If Dostum is really fighting for the people of Afghanistan why hasn't he come to southern Helmand Province even once."
On August 26, Taliban fighters seized a district headquarters in the conflict-ridden province despite repeated US air strikes to repel them, adding to the insurgents' recent advances in a heavily fought region of opium farms and trade routes. The Taliban have been in control of several southern Afghan districts for some 13 years.
Staying in control
It is believed that some former warlords such as Dostum have begun distributing unregistered weapons to what some claim are their personal militias out of fear that NATO forces may seek to destroy their weapons caches. This June, for instance, NATO bombed a weapons cache allegedly belonging to a former warlord in Parwan province, triggering panic among many Afghan strongmen.
"Dostum is in Faryab not only to fight the Taliban but also to arm militia fighters loyal to him," Yonus Fakur, a member of the Kabul-based NGO National Strategy Council, told DW. "What is more worrisome is that we don't know where he gets all these weapons from," the expert added, saying that Dostum's campaign could instigate rival warlords to also arm their own forces.
Afghanistan's Independent Human Rights Commission spokesman (AIHRC), Rafiullah Bidar, said that members of the armed forces who remain loyal to an individual instead of the central government can pose a serious challenge to security and human rights. The official declined to specifically talk about Dostum's alleged attempt to arm militia but stated that, in general, AIHRC was concerned about "unregistered armed groups."
A question of loyalties?
Dostum has played a vital role in Afghanistan's recent history. He was one of the main players behind the fall of former Afghan President Najibullah's government in the 1990s. Although Dostum's Uzbek militia - mostly from northern Jowzjan, Sari Pul and Faryab provinces - was supporting President Najibullah in his fight against the Mujahedeen, they suddenly switched sides and joined anti-government fighters - a move that eventually led to the collapse of Najibullah's Soviet-backed government.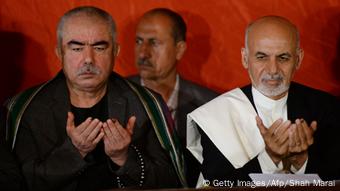 Dostum is President Ashraf Ghani's vice president
These forces stayed in control of northern Afghanistan but were then repelled by the Taliban when the latter pushed for control of the whole country in the late 1990's. Dostum, however, continued fighting and recaptured the region in 2001 with the help of US air support. He was sidelined during former President Hamid Karzai's third term in office, but made a comeback, becoming Afghanistan's first vice president to Ashraf Ghani in late 2014.
"Former warlords are worried about the future of the current Afghan government. This is why they are trying to arm their militias so they can get the military support they need," Faiz Mohammad Zaland, a Kabul University lecturer, told DW, adding that Kabul must tackle the issue before the situation gets out of hand.
Those loyal to Dostum, however, say that the ongoing military campaign in Faryab has been conducted by the Afghan National Army, which has received occasional support from the local residents. "What people call militia are actually local residents who have weapons like many other Afghans. They are here to protect their own people, not to cause problems," Farhad Qaisari said.