Long lines for petrol are usually scarce in Venezuela's capital city of Caracas, but they were evident on Wednesday as the country's main domestic producer struggled with distribution.
Backlogs in meeting demand and payment delays to suppliers have meant that some shippers take weeks to deliver oil for state oil company, PDVSA.
"I can't find 95 octane gasoline anywhere," Jose Paredes, in Caracas' wealthy Altamira district, told the Reuters news agency. "We're an oil-producing country! It's pathetic."
PDVSA head Ysmel Serrano tweeted that problems with the internal shipping of products - which led to shortages in four of the country's 23 states - would be solved soon.
"We're strengthening deliveries to the center of the country to stabilize gasoline supplies," Ysmel Serrano tweeted.
In the industrial city of Puerto Ordaz, National Guard soldiers have been trying to maintain order at functioning service stations.
Read: Venezuela to introduce bigger bills amid soaring inflation
Keep calm and don't panic!
PDVSA said it would redouble the distribution to stabilize supplies, urging Venezuelans to remain calm and not to panic over false rumors that the country was in chaos.
However, union leader Ivan Freites - a critic of the state oil firm - said refineries only had oil inventories for around two days compared with a standard of 15.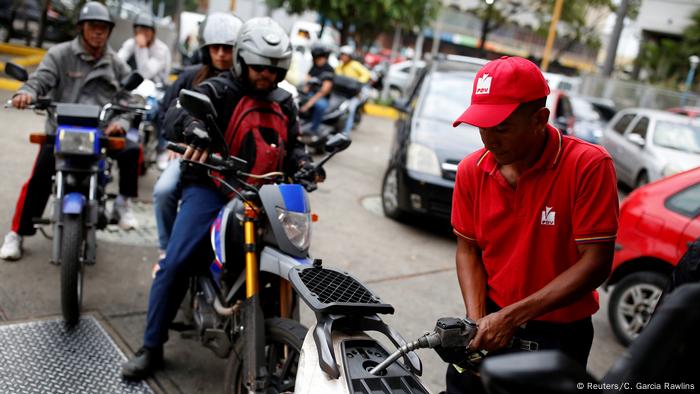 Motorcyclists have also been struggling to find supplies in some parts of the country
About a dozen tankers were reported to be waiting in PDVSA ports around Venezuela, set to discharge a variety of refined petroleum products.
The Socialist government of President Nicolas Maduro last year raised prices in Venezuela for the first time in some 20 years. It remains officially the cheapest in the world, despite the shortages.
The country's economy has been sorely tested by a fall in the price of oil, which accounts for some 95 percent of export revenues. According to estimates, the country has the greatest amount of crude oil reserves, outstripping even Saudi Arabia.
In their third year of a deep economic recession, Veneuzelans have become accustomed to shortages of food, medicines and basic household goods such as toilet paper.
rc/jr (EFE Reuters)