The Spanish EU presidency said on Sunday that uo to 50 percent of the flights in Europe could operate on Monday following disruption caused by clouds of volcanic ash from Iceland.
"The forecast is that there will be half of flights possibly operating tomorrow. It will be difficult; that's why we have to coordinate," Spain's secretary of state for EU affairs Diego Lopez Garrido told reporters after a meeting at European aviation control agency Eurocontrol.
European Commission President Jose Manuel Barroso said he had assembled a team of industry experts to determine how much the air travel chaos would cost the European economy.

Many passengers have been stranded at airports all weekend
"The volcanic ash cloud has created an unprecedented situation," Barroso said in a statement on Sunday.
"I have asked (EU Transport Commissioner Siim) Kallas to coordinate the Commission's response and fully assess the impact of the situation created by the volcanic ash cloud on the economy, and the air travel industry in particular. It is important that all measures to be considered are coordinated at the European level."
A Lufthansa spokesman said Sunday the company had already lost over a billion euros since the disruptions began on Thursday.
After temporarily allowing some flights over the course of the afternoon, only Berlin's airports will be permitted to operate selected flights overnight. German railway operator Deutsche Bahn has added hundreds of additional trains across the country to meet the rise in demand for alternatives to aviation.
Test flights provide hope
European aviation agency Eurocontrol said civilian flights across the bulk of northern and central Europe were prevented from landing or taking off on Saturday and most of Sunday.
More than three in four flights across the continent were halted as drifting volcanic ash continued to be spewed from its source in Iceland.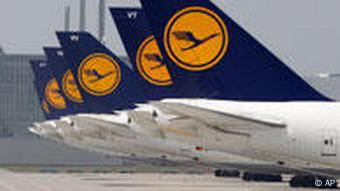 Lufthansa is pushing for the ban to be lifted
Airlines are calling for the airspace to be reopened across the continent. Dutch and German test flights carried out on Saturday without apparent damage seemed to offer hope that Europe's travel lockdown may ease in the coming days.
Germany's Lufthansa said it had flown several planes to Frankfurt from Munich.
"All airplanes have been inspected on arrival in Frankfurt but there was no damage to the cockpit windows or fuselage and no impact on the engines," a spokesman said.
Spread of restrictions
More than 20 European countries have closed their airspace until as late as Monday afternoon.
Budget airline Easyjet cancelled flights in northern Europe until at least the beginning of Monday, with rival Ryanair imposing similar cancellations until at least Monday afternoon.
Weather experts have warned that the volcanic ash cloud from Iceland was unlikely to move far until later in the week.
Southern Iceland's Eyjafjallajokull volcano began erupting for the second time in a month on Wednesday, sending a plume of ash 8.5km (5.3 miles) high into the air.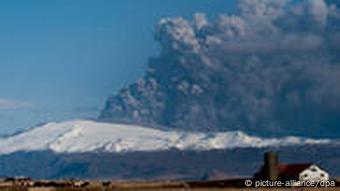 Iceland's Eyjafjallajokull continued to erupt on Sunday
Winds blowing the cloud from Iceland to Russia were expected to continue in the same direction, possibly until the middle of the week, according to some experts.
"The ash will continue to be directed towards Britain and Scandinavia," Teitur Arason, a meteorologist at the Icelandic Meteorological Office, told the AFP news agency.
"That's the general situation for the coming days - more or less for the next two days or maybe the next four or five days," he said.
Dangerous mixture for jets
The airborne ash is a mixture of glass and sandy rock particles, which poses a significant danger to the working of jet engines.
Experts tracking the volcano beneath Iceland's Eyjafjallajokull glacier said there were no signs of reduced activity on Friday. After a relatively minor eruption one month ago, the volcano erupted again on Wednesday, with these two incidents breaking almost 200 years of dormancy.
That last recorded eruption continued, with varying levels of severity and activity, for almost 18 months between 1821 and 1823.
svs/rc/AFP/dpa/Reuters
Editor: Andreas Illmer