Steinmeier conceded that Germany's population perceived Africa as a continent of "crises and conflict," but added that eastern Africa appeared to be emerging as a region of "growing political stability."
Concluding his trip in Nairobi on Sunday, Steinmeier said Germany must "reexamine" its perception of Africa.
"In the German perception, in the broad public, Africa is still strongly identified as a continent of crises and conflict," he said.
"But that's not true for the whole of Africa. Instead there are anchors of stability to which we turn with special interest," he added.
Appeals for greater German presence
Steinmeier was reacting to appeals made during his trip by the governments in the Democratic Republic of Congo (DRC), Rwanda and Kenya that Germany should invest more in the region.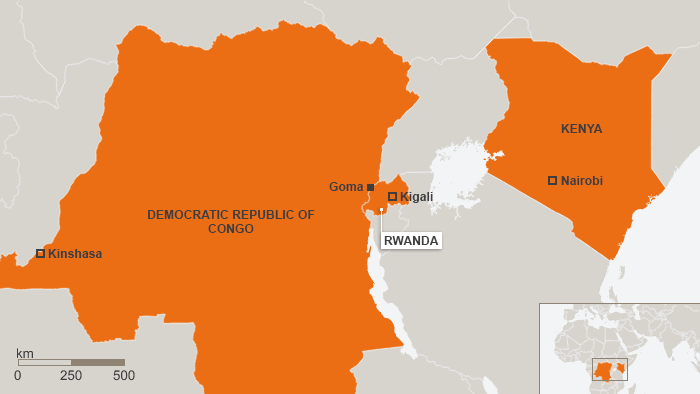 Rwandan Foreign Minister Louise Mushikiwabo told Steinmeier on Saturday that it was "unnatural that Germany is absent from our region."
"Where is Germany?," she asked.
She said only three former colonial nations in Europe - Britain, France and Belgium - were visible in Africa.
"We want to see more presence of Germany in this region, on this continent," she said.
Visiting Tanzania in early February, German President Joachim Gauck called for more investment, more commitment to civil rights and the creation of an EU-style eastern African union.
Kenyatta kept Steinmeier waiting?
In Nairobi Steinmeier met with Kenyan President Uhuru Kenyatta, but reportedly only after a delay of several hours, according to the German press agency DPA.
In December, the International Criminal Court (ICC) based in The Hague dropped charges against Kenyatta after the prosecution said it did not have enough evidence against him.
Kenyatta and current Deputy President William Ruto were on opposing sides of the 2007 election, but joined forces to win the presidency in March 2013 polls.
Praise for Rwandan advancements
During his stopover in Kigali, Steinmeier visited the national memorial center, where those killed during Rwanda's 1994 genocide are remembered.
He also praised the small nation's recent emergence as a center for technology and stressed support for the UN peacekeeping mission in neighboring DR Congo.
ipj/cmk (AP, Reuters)