Amnesty International says that 2022 World Cup host nation Qatar is lagging behind on addressing concerns about the abuse of migrant workers, six months after it laid out plans for labor reforms.
The 12-page Amnesty report shows that workers brought in to redevelop the country for the 2022 World Cup are continually being "immoderately exploited." Dangerous working conditions, unpaid wages and forced labor are the human rights activists' main concerns. The government have taken few if any steps to punish the abuse of the workforce or improve their health care, they say.
The International Trade Union Confederation warned in June that as many as 4,000 migrant workers could die in construction site accidents by the time the 2022 tournament kicks off. The main problem: the heat and long working hours prevalent in Qatar cause many workers to collapse.
Amnesty report that since the promised reforms in May, five of the nine critical areas in need of improvement have seen "no change." In the other four areas, only limited progress has been made, in particular the controversial sponsorship law. This law states that foreign workers have to get permission from their employers to change jobs or leave the country. The three other areas, occupational safety, pay and violence, have also seen minimal improvements.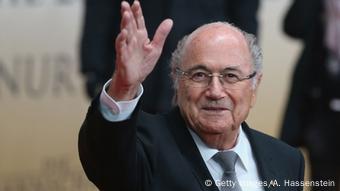 Sepp Blatter confirmed Qatar would host in 2022 at the launch of "Die Mannschaft" in Berlin
Blatter confirms Qatar as hosts
Meanwhile, FIFA president Joseph Blatter confirmed on Monday that Qatar would remain hosts of the 2022 event.
"The 2022 will be held in Qatar. Everything else said on that subject is false," said Blatter at the premiere of Germany's World Cup film in Berlin. The decision of the sport's governing body is one he has always supported, he said.
Last week German magazine "Der Spiegel" reported that Blatter recently revealed at a dinner with members of the Norwegian football association that Arabs were "arrogant," Qatar were financing Islamic terrorists and the World Cup wouldn't take place in the Emirates. FIFA denies this.
Still, football's governing body remains under heavy criticism since their decision to award Qatar the World Cup. In October, the vice chairman of the European parliament's human rights committee, Barbara Lochbihler, sent a letter to Blatter. In the document, Lochbihler, the former general secretary for Amnesty International Germany, challenged Blatter to consider his decision, as well as asking about an exit strategy.
"Four years ago, Qatar won the bid to host the World Cup," said Sherif Elsayed-Ali, Amnesty's deputy director of global issues, "but so far Qatar have delivered nothing more than promises. Something drastic has to be done to avoid this World Cup being built on exploitation and forced labor."
ck,jh/al (AFP, AP)