A Dusseldorf court sentenced a former employee of Germany's domestic intelligence agency, BfV, to one year of probation on Tuesday for attempting to share secret information with Salafists.
The court said the defendant, Roque M., had expressed at different times militaristic, extreme-right and Salafist remarks over social media out of boredom and had welcomed the terrorist attacks carried out by the "Islamic State" (IS) in Paris in November 2016.
"There is no one who regrets all of this more than me," the man said.
Read more: Islam researcher: Not all Salafists are the same.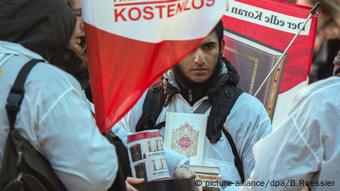 The Dusseldorf court found that Roque M. shared secret information with Salafists on social media
The 52-year-old had started working for the BfV office in Cologne in April 2016 where he was part of a task force surveilling Salafist groups.
The BfV placed M., a Spanish-born German national, under internal surveillance in October after suspecting that he had been radicalized. In November, he admitted to sharing information about BfV operations with Salafists to an undercover BfV investigator, leading to his arrest.
Investigators had requested a stronger sentence on the grounds that M. had cultivated relationships with jihadi groups in Syria and encouraged "fellow brethren" to conduct an attack against BfV's office in Cologne.
But the Dusseldorf judges concluded there was not enough evidence to warrant more severe charges. That decision nullified the existing arrest warrant, leading to M.'s release in July.
M., a father of four, had worked as a bank clerk before joining the BfV and had been active in a pastoral council of a Spanish Catholic church.
German security compromised?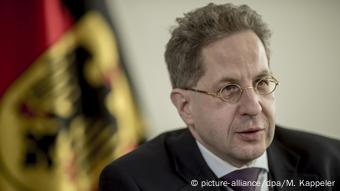 BfV head Hans-Georg Maassen has said the case of Roque M. proves that internal surveillence mechanisms work
The German Interior Ministry and the BfV had denied that M. had damaged Germany's internal security or that internal security measures were failing. In November, both argued that investigators' ability to quickly uncover the man's illicit activities proved internal surveillance procedures had worked.
"We have no indications that there are fundamental structural problems," Interior Ministry spokesman Tobias Plate said in November last year. "On the contrary, the office itself was involved in uncovering this person."
Other politicians at the time were not convinced.
"The domestic intelligence service doesn't have a security leak — it is a security leak," the domestic policy spokeswoman of the Left Party, Ulla Jelpke, told the Neue Osnabrücker Zeitung newspaper in November.
Social Democrat (SPD) domestic security expert Burkhard Lischka told the dpa news agency that people investigating the case need to find out how background checks had failed.
amp/es (dpa, AFP)