Airbus executives rolled out the red carpet for Narendra Modi on Saturday, showing the visiting prime minister the flagship A380, a plane that frequently flies to India but is not currently used by any domestic carrier.
French Foreign Minister Laurent Fabius and Airbus executives Tom Enders and Fabrice Brégier accompanied Modi on his tour of the facility. On Friday, after arriving in France, Modi unveiled plans to purchase 36 French-built Rafale fighter jets, in a deal worth some 5 billion euros ($5.3 billion). India thus becomes the second foreign government, after Egypt, to sign up for the new fighters.
Airbus looking to produce in India
The aviation giant also issued a statement after the tour, reaffirming its "commitment to produce in India," echoing the chosen theme of Modi's European tour, where he's promoting a "Make in India" campaign seeking international outsourcing projects.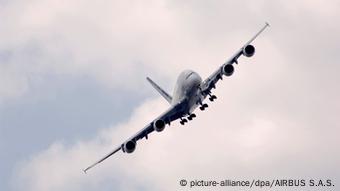 A380s fly in and out of India daily, but none of them in domestic colors
"India already plays an important role in our international activities and we even want to increase its contribution to our products," Enders told the press.
Airbus' comments also pointed to the existing "two engineering centers, one research and technology center in India, employing a total of 400 highly-qualified people," saying these efforts already represented an investment of $400 million per year, "providing a living to 5,000 staff from 40 companies."
Indian airlines have purchased around 800 Airbus passenger planes since 2005, a major recent order from November 2014 was an order for 250 of the A320neo model for low-cost carrier Indigo.
Fabrice Brégier, executive president of Airbus' commercial arm, said that he was "sure that one day there will also be an Indian company that will fly with an A380 in its colors."
Modi and Merkel will share the stage as the Hannover Messe officially opens
'Hannover Messe' and Merkel next
On Sunday evening, German Chancellor Angela Merkel and Modi are scheduled to jointly open the "Hannover Messe" - Germany and the world's biggest industrial trade fair.
India is the 2015 official partner country of the annual fair, which is open from April 13 to April 17 in Hanover. Some 6,500 companies from around 70 countries will be showcasing their wares in the northern German city.
msh/jr (AFP, Reuters)