Tanzania's President John Pombe Magufuli was one of the first African leaders to congratulate Donald Trump on his election victory. "Tanzanians and I assure you of continued friendship and cooperation," he wrote on his Twitter account.
Burundi's controversial leader Pierre Nkurunziza - the subject of intense US and international criticism for his decision to stay in power beyond a constitutional two-term limit- followed suit. "Your victory is the victory of all Americans," he wrote on Twitter.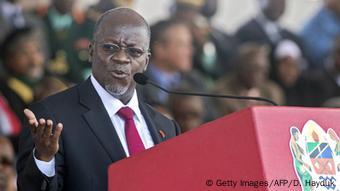 Tanzania's president John Magufuli was quick to congratulate Trump
Buzz on social media
Social media platforms were abuzz with reactions just moments after the poll results were out. DW's Kiswahili Facebook page showed more than 500 comments just 15 minutes after the announcement.
"President-elect Donald Trump has emerged the winner, but I fear for the future of the African countries and African Americans in the US. His policies are not friendly to our countries," wrote Tanzanian Adam Ayo.
Others commended the US for the conduct of the polls. "I salute Hillary Clinton for being so patriotic and accepting the election results. That's true democracy," Methord Augustino wrote on the same page.
Many African social media users also commented on the Trump win on a lighter note, like this Kenyan user on Twitter.
'This is not what we wanted'
The election of Donald Trump also drew mixed reactions in Nigeria which traditionally enjoys close ties with the US. Nigerian Nobel laureate Wole Soyinka - a US resident- had announced before the polls that he would "pack up" and leave the country if Trump was elected.
"This is not what we wanted, but we have no choice but to accept fate," Ibrahim Karaye from northern Nigeria wrote on the Facebook page of DW's Hausa service. "The deed is done. We await the fulfillment of those promises he made to Americans," wrote Aboubakar Roufai Filani-Maradi from neighboring Niger.
Experts were undecided if the Trump win will lead to a change to US foreign policy towards Africa. Trump's announcement that he will put American interests first could mean the end of US economic initiatives such as the African Growth and Opportunity Act (AGOA), a scheme which gives preferential treatment to exports from selected African countries to the United States. The "Power Africa" program, initiated by incumbent president Barack Obama, could also be at stake.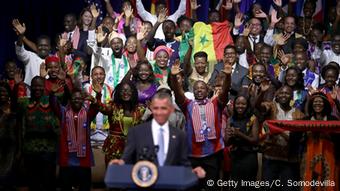 Donald Trump could change some of President Obama's policies towards Africa
Trump cannot act alone
"Trump might change the focus of the Power Africa program or other initiatives, but there is always change and continuity in foreign policy," Ethiopian journalist Ananias Wori told a DW correspondent at the US embassy in Addis Ababa where he followed the election night.
International relations lecturer Yakob Arsano from the University of Addis Ababa pointed out that Trump would need the support of the US Congress for any major change in foreign or development policy. "America is an established political system which cannot be swayed by an individual president," he told DW's correspondent at the same function.