In the early hours of June 6, 1944, around 160,000 allied troops landed on the French coast of Normandy. This was so-called D-Day, which established a western front on the Continent and turned out to be crucial in bringing down Nazi tyranny in Europe. A year later World War II was over.
The entrance to the cemetery at La Cambe is a narrow stone arch opening on to a lawn with almost endless rows of graves. There are more than 21,000 soldiers buried at La Cambe, making it the biggest of the six military cemeteries in Normandy. But there are only a few crosses on the green, most of the graves are simple plaques in the ground with names and dates on them.
Around 80 percent of those buried here were less than 20 years old when they died, says groundskeeper Lucien Tisserand.
All of Normandy strewn with corpses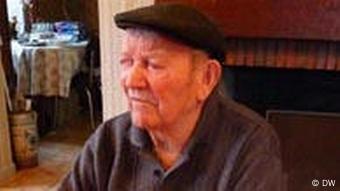 Auguste Vallet helped to build the cemetary in the 1950s
A few kilometers from the cemetery is the village of La Cambe. Auguste Vallet, an 84-year-old gardener, helped build the cemetery and bury the dead in the 1950s. He recalls how the makeshift burial ground was used by both German and US troops.
"The Americans had buried their victims on the one side and the Germans were put on the other side of the cemetery," Vallet told Deutsche Welle. "That went on for six or seven years until the Americans built a cemetery close to Omaha Beach. Then the Germans were exhumed, the site was re-planned and they were buried again."
"In the war, all of Normandy was strewn with corpses that had to be identified."
Another resident of La Cambe is Charlotte Dubost. As a young girl she had to work for the Germans. She was 21 at the time of France's liberation. When US troops arrived at the village, she and other families were still hiding from the fighting in a hole in the ground. Now she regularly visits the cemetery.
"After the war there was a German couple who came here. They had lost both of their sons here in Normandy. Each year they visited the graves of their children," Dubost told Deutsche Welle.
"One day they asked us whether my husband and I could maybe look after the two graves. And for many years now, that's what we've been doing. It was not easy at the beginning, but after all, we have children of our own and we know that those young Germans had never asked to come here and die."
Auguste Vallet and Charlotte Dubost vividly remember the celebrations marking 60 years of D-Day in 2004. Then German Chancellor Gerhard Schroeder did not visit the cemetery in La Cambe because many SS soldiers are among the dead.
The decision triggered debate not only in Germany but also in the little French village itself. Many of the villagers come to the cemetery each year on the 6th of June to take part in an annual commemoration ceremony.
Gradual reconciliation after the war
Now and then there are still German veterans who visit the site, many are now too old to make the long trip from Germany to France. Johannes Boerner has no such problem -- he stayed in France after the war and now lives in Normandy. In 1944 he fought in the Battle for the town of Saint-Lo. Many of his friends from back then were never found.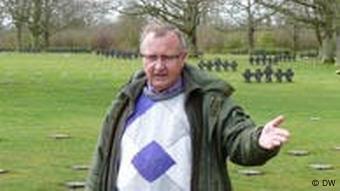 Groundskeeper Lucien Tisserand says most of the dead were still teenagers
"The fighting was very very heavy. We were in Saint-Lo with 120 men and a month later only 9 were left. Then more troops were sent from Germany -- but those were kids, they were 16 years old," Boerner said.
"They were incredibly scared, some of them cried when they had to go into battle. Some wanted to desert and run away. But there was the order: if anyone crosses the lines, shoot them!"
Johannes Boerner spent almost four years as a prisoner of war in France. After that, he did not want to return to his hometown of Leipzig in Germany. He decided to stay in Normandy and married a French woman. She still remembers how her grandfather was upset when she told him about her German fiancee.
"'Are there not enough French people,' he asked me. 'Do you really have to pick a German?'"
Today the couple can smile about that particular anecdote -- a lot of things have changed since then. But well into the 1960s it was difficult for Boerner to live in France. It took years for Franco-German relations to get back to normal, and eventually - at the big ceremonies marking the 50th and 60th anniversary of D-Day, German and French veterans commemorated side by side.
This year marks first time that the German embassy plans to hold an official ceremony at the cemetery at La Cambe. Veterans from Germany, France, Britain, Canada and the US will join in commemorating those who died in Normandy 65 years ago.