Andrew Parker, director general of the domestic intelligence agency MI5, said in a rare public speech in London on Tuesday that the terrorist threat has accelerated at an alarming pace and was worse than at any time in his 34-year career.
"In 2017, with all that has happened and much that has not, it is clear that we are contending with an intense UK terrorist threat from Islamist extremists," Parker said. "That threat is multidimensional, evolving rapidly, and operating at a scale and pace we've not seen before."
Parker said other countries in Europe faced a similar surge, in particular France, Belgium, Germany and Spain: "The scale at which we are operating is greater than ever before," Parker, head of the agency also known as the Security Service, said.
"Twenty attacks in the UK have been foiled over the past four years," Parker said. "Many more will have been prevented by the early interventions we and the police make. There have been a record number of terrorism-related arrests: 379 in the year to June."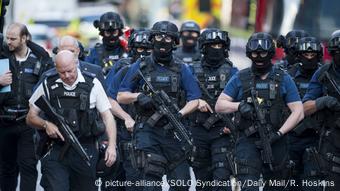 Armed police after the London Bridge attack in June
Increasing numbers
"The scale at which we are operating is greater than ever before," Parker said. A further 1,000 people are to be recruited to the agency in the next few years, bringing the force to 5,000 employees.
In the past, more than 20,000 individuals have been scrutinized and a further 3,000 are being investigated for possible involvement in extremist activities. MI5 has more than 500 live investigations Parker said.
"Attacks will occur sometimes because this is a free society, a liberal democracy, and we do not monitor everybody all the time," Parker said. "Nor would we want to live in a country that was like that."
Communication systems
Parker called on technology companies to work with the government on preventing social media platforms from being used by extremists for their own ends. Asked if Facebook or Google were doing enough, he declined to discuss specific companies.
The MI5 chief said an "unintended side effect" of advances in communications technology had been to make it easier for extremists to avoid monitoring by using apps to avoid detection.
"For the companies there must be an ethical responsibility," Parker said. "The way to move forward is in partnerships together."
jbh/jm (AP, dpa, AFP)