Journalist Ruben Pat Cahuich was gunned down as he walked out of a bar in the tourist hotspot of Playa del Carmen, in the Mexican state of Quintana Roo. Pat Cauich is the second journalist to have been murdered in Quinana Roo in less than a month, after his colleague Jose Guadalupe Chan was also gunned down.
Both journalists worked for the weekly digital news site Playa News Aqui y Ahora, which Pat Cauich oversaw.
"Ruben Pat, manager at the Playa News weekly, was shot dead this morning," the Quintana Roo state government confirmed, adding that the assassination-style killing was meant to "intimidate" other journalists.
Read more: Opinion: Mexico, where freedom of the press is being killed
On its Facebook page, Playa News mourned the journalist's death, saying it was a "black day for journalism." The grieving staff wrote that they would not be silenced by the killings and demanded answers from the state government.
"Now it is two from our team, Governor, when will the lack of public safety in our state end? We demand justice!" a statement from the weekly news site read.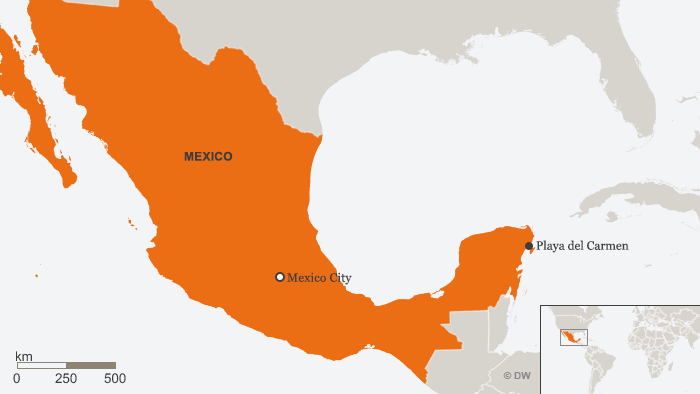 Journalism work linked to death
Playa del Carmen, a beachside resort town located just across the island of Cozumel, has seen a sharp increasing in violence in recent years.
As a result, the region of Playa del Carmen had become "a very dangerous place for journalists," Jan-Albert Hootson, Mexico representative for the US-based Committee to Protect Journalists (CPJ), said.
Hootson had been in contact with Pat Cauich and that in June 2017, he denounced having been beaten, detained overnight and warned by Playa del Carmen police "to stop publishing articles about a local police chief, and that I knew what would be coming to me if I didn't," the journalist told CPJ.
Police were angered by one of his articles, which covered the hanging of banners around the city that accused the police chief of being linked to a criminal gang, CPJ said.
Eight journalists have been murdered so far in Mexico in 2018 and more than 30 have been killed the past 5 and a half years. In 2017, Mexico was the second most dangerous place in the world for journalists, behind civil war-torn Syria, according to Reporters without Borders. The majority of these deaths go unsolved or unpunished.
jcg/rt (EFE, AFP, AP)
Each evening at 1830 UTC, DW's editors send out a selection of the day's hard news and quality feature journalism. You can sign up to receive it directly here.