Mexican police said local journalist Leobardo Vazquez was gunned down at his home Wednesday night in the municipality of Gutierrez Zamora.
Vazquez previously worked for other media outlets, but in 2017 was the editor of Enlace Informativo Regional, a Facebook page covering local news.
Men on motorcycles shot and killed him in front of his house, where he also sold tacos. Many Mexican journalists work second jobs to get by.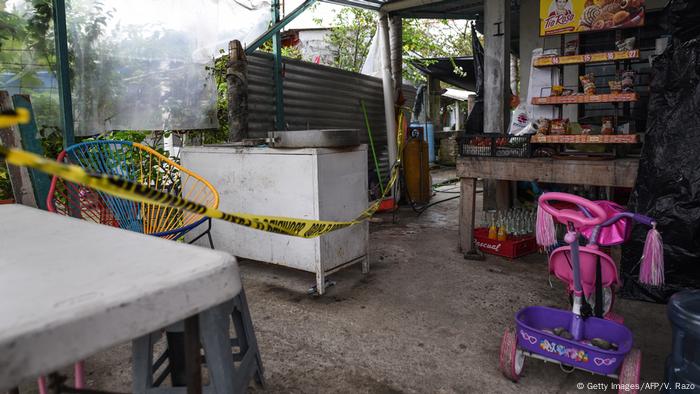 Vazquez was killed at his home in Veracruz, Mexico
Read more: Mexico's murder rate rises to 20,000 in ten months; worst in 20 years
The 42-year-old was the third journalist killed in Mexico this year. In 2017, 12 journalists were killed.
Ana Laura Perez of the State Commission for the Attention and Protection of Journalists said Vazquez hadn't reported any threats, but "apparently he had been threatened by a notary, and there was also talk of threats from mayors."
Reporters without Borders (RSF), which ranks Mexico 147th out of 180 countries on its World Press Freedom Index, said Vazquez's death highlights the difficult situation journalists face in a country confronting drug-fueled violence.
Read more: Takeaways: How Latin American journalists can protect themselves
"With three journalists murdered in Mexico so far this year, the situation is becoming untenable for the Mexican media, especially those in Veracruz," said Emmanuel Colombie, the head of RSF's Latin America bureau. "The local police and judicial authorities must quickly identify those responsible for Leobardo Vázquez's murder and provide his family with protection."
Veracruz is the most dangerous place for journalists in Mexico. Twenty-two journalists have been killed in the state since 2000.
cw/sms (AFP, AP, dpa, Reuters)
Every evening at 1830 UTC, DW's editors send out a selection of the day's hard news and quality feature journalism. You can sign up to receive it directly here.