Now the issue has finally made its way to the European Parliament. For weeks, the online world has been flooded with reports of sexual harassment and attacks on women in the worlds of film and theater in a Twitter campaign using the hashtag #MeToo. On Monday, several representatives and employees at the European Parliament wrote a letter to Parliamentary President Antonio Tajani with the subject line: "We too." On Wednesday, the body scheduled an emergency session to discuss the problem as it relates to parliament – the resonance was nominal.
Observers counted a total of 57 of the body's 750 members present during the one-hour debate. There were very few men present, although they make up two-thirds of parliament. Furthermore, neither the parliamentary president, nor the leaders of the body's political groups bothered to attend. Only a handful of male representatives spoke alongside their 40 female colleagues. Some of those men, however, were very adamant about underscoring the responsibility of men on the issue.
Break the silence
Representative Agnieszka Kozlowska, of the conservative EEP, spoke for many in welcoming the #MeToo campaign: "The silence has been broken." Women, she said, should no longer be ashamed to report assaults, and above all, should not have to fear losing their jobs when they do so. She added that far too little was being said about the perpetrators of such assaults and the fact that victims often receive very little support from those who witness sexual harassment. The result: "People just close their eyes and pretend that nothing happened."
Other speakers praised the #MeToo campaign for creating a sense of solidarity among women. "We all share painful memories," said Kostadinka Kuneva of the Left parliamentary group. "Men must address their roles as perpetrators and speak about male norms," she demanded. "We need more equality in society."
Men have to take a stand
EU Commissioner Cecilia Malmstrom stressed the fact that men must also step forward and take a stand against sexual harassment. She said the problem has existed for years and the #MeToo campaign provided a new opportunity to fight it. The EU and its member states, she said, have an entire arsenal of laws, guidelines and codes of conduct with which to combat the problem, and now is the time to effectively implement those measures.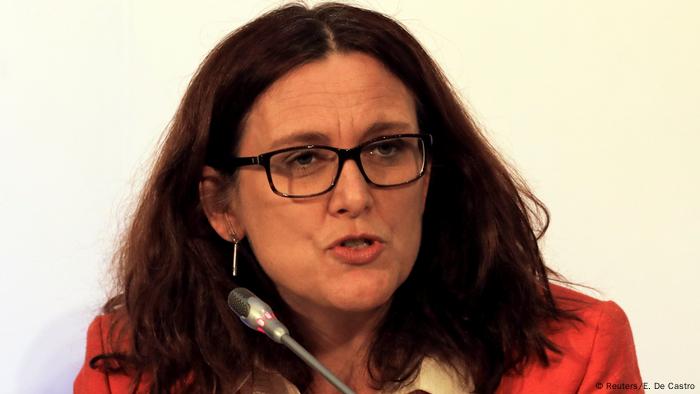 Cecilia Malstrom is one of only nine female EU Commissioners in a council with 28 members
"We have to support victims so that they feel safe when they report such incidents," said Malmstrom, adding that women must have access to existing complaint authorities, like the special advisers in the European Commission and in the European Parliament. And furthermore: "The problem is much broader. This is about education and a change in attitudes toward women." Malmstrom went on to say that that the underlying societal problem behind sexual harassment must be confronted: "It is about power." Malmstrom's own career highlights just how slowly equality between men and women is moving: She is one of only nine female EU Commissioners in a council with 28 members.
Like many of the other speakers, Malmstrom highlighted the necessity of bringing in external observers to supplement internal advisory offices within European institutions. The Association of Parliamentary Assistants has also called for such a change, because sexual harassment is a major topic among the ranks of assistants. One particular contract clause about the "relationship of trust" to individual representatives can quickly lead to assistants losing their jobs. Parliamentary President Tajani, however, has already brushed off calls for external observers as unnecessary.
Decisively combating sexual harassment
"It is about time that we very clearly say that we should not be ashamed. The perpetrators should be ashamed," said Green parliamentarian Terry Reintke. Beyond existing agreements, she said that further guidelines were needed regarding sexual assault against women. She also emphasized, as did many of her colleagues: "This is not a women's issue."
As the session drew to a close, a few of the male parliamentarians added their thoughts. Some said that sexual harassment must be made a thing of the past – and those who engage in it are cowards, urging "zero tolerance" and "better education." On Thursday, the European Parliament will vote on a new bill addressing ways to more effectively combat sexual harassment.