German reporter Mesale Tolu will not be allowed to leave Turkey, where she is on trial on terror-related charges, a Turkish court ruled Thursday.
Tolu said the decision was "politically motivated" and announced she would appeal. She also decried "harassment" by Turkish judiciary.
"As soon as I start working as a journalist, I once again face danger to go to jail or be detained by the police," she said.
"The judge and the prosecutors are not really doing anything to speed up or conclude this case," Tolu added. "This means the process would take years."
The trial against Tolu, her Turkish husband Suat Corlu, and 25 other defendants is set to continue in mid-October.
Read more: Mesale Tolu urges more government pressure on Turkey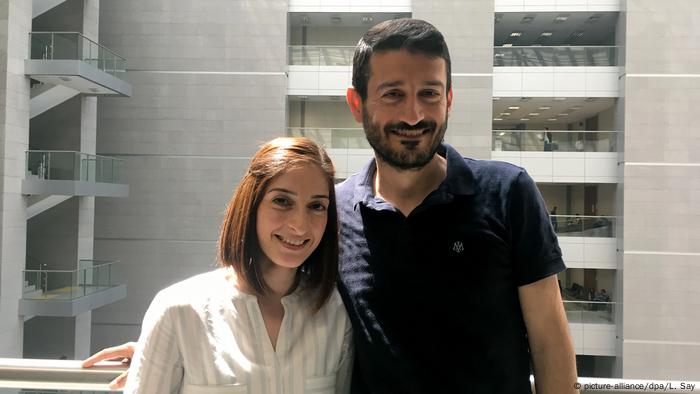 Mesale Tolu and her husband Suat Corlu in court in Istanbul
Journalist and translator
Tolu, who was born to Turkish parents in Germany, moved to Istanbul in 2014 to work as a reporter and translator.
Her articles were mostly published by left-leaning outlets seen as having pro-Kurdish leanings, and she also worked for "Ozgur Radyo" which was shut down by the government.
Turkish authorities arrested Tolu in April last year on suspicion of conducting "terrorist propaganda." She is also charged with membership in a terror organization over her presumed links with the far-left Marxist-Leninist Community Party.
She was released in December after spending eight months in jail. However, authorities banned her from leaving Turkey, with the Thursday ruling reaffirming the travel ban.
Read more: Turkey's procesution of Mesale Tolu 'unlawful'
'Beyond comprehension'
Senior German Left party lawmaker, Heike Hänsel, attended the Istanbul court date on Thursday. Following the ruling, Hänsel called on the German government to increase pressure for Tolu's release, citing the examples of reporter Deniz Yücel and activist Peter Steudtner. The two men were allowed to return to Germany after a period in Turkish prison.
"It is beyond comprehension that Deniz Yücel and Peter Steudtner can travel — rightly so — and Mesale Tolu still cannot," she said.
The NGO Reporters Without Borders (RSF) said Germany and the EU should "think very carefully" about whether they should normalize their ties with Ankara.
"As long as Tolu cannot leave the country, she remains a political hostage of the Turkish government," said Christian Mihr, RSF managing director for Germany.
dj/rt (EPD, dpa)