German Chancellor Angela Merkel warned Israel that the events in Egypt should not stop efforts to revive the Middle East peace process. Talking to Israeli President Shimon Peres in Jerusalem, she said that it was Germany's special responsibility towards Israel that motivated her concerns over the security of the Jewish state.
"The developments in the region [North Africa] must not be an excuse to stop or neglect the peace process," she said.
"We must achieve the two-state solution soon," she stressed, adding that it was in the interest of Israel.
Peres called Merkel a "genuine, true and serious friend" of Israel, saying that she saw "things as they truly are."
"We don't want to be an island of prosperity in a sea of poverty," Peres said. "The island must also watch what is going on around it," he added, picking apart a comment from Prime Minister Benjamin Netanyahu, who said that Israel was "an island of stability in a region of unrest."
Talks with the opposition
Earlier on Tuesday, Merkel held talks with Israeli opposition leader Tzipi Livni, stressing the need for peace talks between Israel and Palestine to resume "as soon as possible."
Livni, who was Israel's chief Mideast negotiator under the previous government and currently heads the centrist Kadima party, said negotiations were in Israel's national interest and not a favor to the Palestinians or the Europeans.
The most recent round of peace talks collapsed in September after Israel would not agree to a Palestinian precondition to stop construction in the occupied West Bank and East Jerusalem.
Merkel also received an honorary doctorate from the University of Tel Aviv on Tuesday, for "her significance as a leader of global proportions" and her "unwavering support of Israel."
All eyes on Egypt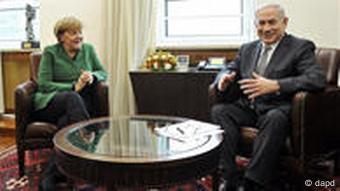 Merkel and Netanyahu met on Monday
On Monday, Merkel met Israeli Prime Minister Benjamin Netanyahu in Jerusalem, prior to a meeting of members from both the German and Israeli cabinets.

At a joint press conference with Netanyahu, Merkel spoke of "troubled times" against a backdrop of civil revolt in Egypt and Tunisia, and urged Israel to take constructive steps toward reinvigorating the peace process.
Both leaders agreed that the current situation in Egypt and other parts of the Arab world was "very difficult" and a concern for Israel. Netanyahu said Israel was watching the situation with "vigilance" and "worry."
Merkel's visit is part of annual German-Israeli government consultations. Israel is the only country outside Europe with which Germany holds joint cabinet sessions
Author: Nicole Goebel, Sarah Harman (AFP, Reuters, dpa)
Editor: Andreas Illmer