Merkel began Tuesday by meeting with representatives of the Chinese media -- including four prominent figures critical of the government in Beijing. The meeting was a signal of Germany's support for more press freedom in China.
Li Datong, the former publisher of a supplement to the China Youth Daily newspaper, was full of praise for Merkel.
"The meeting shows that the chancellor attaches great significance to democracy and freedom of speech in China," Li told German news agency DPA.
Later, at a speech to China's Academy of Social Sciences, Merkel underscored Western concerns about the status of civil liberties in China.
"From our perspective, the topic of human rights is of decisive importance," Merkel said in her speech. "Basically this means nothing else than that the dignity of every individual human being cannot be compromised. I think we would do well to keep discussing this with one another."
Increased scrutiny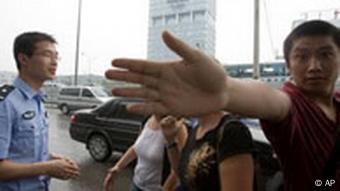 Ahead of 2008, freedom of the press has become a hot issue for Beijing
Merkel reminded the Chinese government that, with the 2008 Summer Olympics fast approaching, the eyes of the world will be on Beijing.
"The world will be looking at China to a greater extent than it has in past years," Merkel said. "And people will also be looking at how China presents itself in terms of freedom of speech and freedom of the press."
Chinese critics of Beijing welcomed Merkel's remarks.
"Unlike her predecessor Gerhard Schröder, Angela Merkel does not run and hide from this topic," former university professor and dissident Liu Xiaobo told Deutsche Welle. "She tells it like it is. The pressure she's put on the Chinese government has already had significant effect."
Press freedom and piracy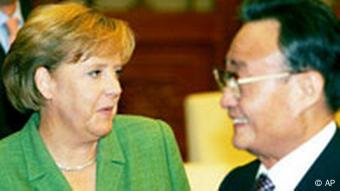 Merkel suggested to Wu that China look to Germany as a model
Merkel also raised the issue of freedom of the press at a meeting with China's Head of Parliament, Wu Bangguo.
DPA cited unnamed sources from the delegations at that meeting as saying that Merkel had called for China to guarantee freedom of the press by law.
But civil liberties weren't the only contentious topic Merkel raised on Tuesday. At her speech before the Academy of Social Scienes, Merkel also criticized Chinese piracy of Western products and, in particular, automobiles.
"If suddenly a car turns up that looks like a Smart but isn't one, but rather a copy produced by not entirely legal means, then that's not good," Merkel said.