German Chancellor Angela Merkel was in Belgium on Tuesday to mark the centenary of the First Battle of Ypres, an early milestone of World War I. Merkel praised Belgium for national officials' constant willingness to extend the hand of friendship to Germany, noting that the small European kingdom was the "one of the very first" to embrace reconciliation after World War II.
Standing in front of the King Albert Monument on the infamous Flanders Fields, Merkel spoke of the "immeasurable sacrifice" brought about by World War I and said that all sides "cannot but be grateful for how much has changed since."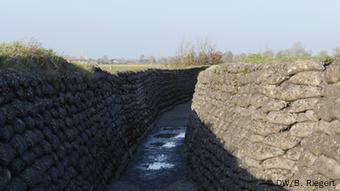 Many of the trenches dug in Belgium during World War I can still be visited today
Merkel also took the opportunity to recognize the work of the European Union, headquartered in Brussels, in preventing such "terrible wars". The EU, Merkel said, stands for "freedom, democratic values and respect for international rights."
Belgium's King Philippe and Queen Mathilde were also in attendance, as well as many other international guests. The royal couple stated that taking part in the memorial was "a special honor" for them, particularly in light of the suffering Belgians faced at the hands of Germans over two world wars.
The memorial ceremonies were set to continue throughout the evening in Ypres, a city completely destroyed over the course of several battles during World War I.
Germany opened up its Western Front during the First Battle of Ypres, in October and November 1914. By the end of World War I, 16 million people - at the most conservative estimate - had lost their lives.
es/mkg (AFP, dpa)