The Russian leader, who leaves office in the spring after completing two terms, drew a parallel between Iran's contentious uranium enrichment program and North Korea's nuclear weapons program.
"Remember, only recently we just as emotionally discussed the North Korean nuclear program, and now we are seeing positive moves on the Korean peninsula," Putin said, adding that patience and continued negotiations would be keys to a breakthrough with Tehran. "We can and must be patient and look for a way out. Can we do it without having a dialogue with the Iranian leadership and people? I think that's impossible."

Merkel warned that if Tehran did not comply with demands for transparency on its nuclear program "a new round of sanctions must be initiated." The chancellor nevertheless made clear Germany, like Russia, was banking on a negotiated end to the impasse.

Bilateral relations, trade good
Putin took questions on his and Russia's political future
On the topic of bilateral relations, both leaders said cooperation in internal and external security was good.

They noted rapidly growing trade, which rose 38 percent last year to a total of 53 billion euros ($75 billion). Russia provides around a third of Germany's crude oil and gas needs and the trade balance is in its favor by close to 6 billion euros.

Putin said the two economies complemented each other, with Russia providing reliable energy resources and opportunities for German business in technology and construction.

Merkel also announced that the two countries hoped to build the Nord Stream trans-Baltic gas pipeline and were keen to allay the concerns of transit states over the project.
Nord Stream goes ahead, assures Merkel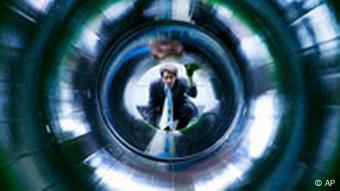 The Nord Stream pipeline will be completed on time, the leaders said
"Where there are problems implementing it economically, we can help -- if political talks help," The project is politically desired. "If investment conditions need clearing up, that must ensue at a company level."

The pipeline -- a project run by a consortium consisting of Russia's gas export monopoly Gazprom and Germany's BASF and E.on -- will run from Russia to Germany under the Baltic Sea. Some countries through which the pipeline will run have raised concerns about the environmental safety aspects.

"We see no need to act at the moment, so I can only say that in my view the project will go ahead," Merkel said. "As far as Germany is concerned, we want to see this project completed and economically implemented," she added.

Russians willing to meet transit states in debate
Russian Energy Minister Viktor Khristenko told reporters at a separate meeting that Berlin and Moscow would continue to hold discussions with the transit states.
"The project is going according to plan, but there is a situation where questions about the route need to be discussed with Baltic Sea littoral states," he said. "We are in a position to ensure a high level of environmental security on the route of this pipeline."


Protesters demanded answers in the case of murdered Russian journalist Politkovskaya
Putin took the opportunity of his visit to Germany to reiterate his plan to visit Iran after it an alleged assassination plot had been uncovered. "Of course I'm going to Iran," he said in response to a question.

Putin also fielded awkward questions about the ongoing probe into the murder a year ago of journalist Anna Politkovskaya. The president said investigations were entering the final stage and the outstanding issue was to find who was behind the killing.

Asked about his political future, Putin pledged that the Russian constitution, which allows only two consecutive presidential terms, would be implemented in letter and spirit, but this did not mean that he could not continue to be politically active.

Putin's recent suggestion that he could become prime minister, has raised concerns that he could be seeking to undermine Russia's democratic institutions.