Merkel told a news conference in Bishkek Thursday that she had hoped journalist Azimzhan Askarov would get a fair review trial as promised by President Almazbek Atambayev.
The life sentence imposed on Askarov relates to ethnic unrest in the south of Kyrgyzstan in 2010 when more than 450 people, mostly ethnic Uzbeks, were killed. Tens or even hundreds of thousands were displaced.
Atambayev (pictured above) promised a new trial under international supervision, but did not comment on demands that Askarov to be freed.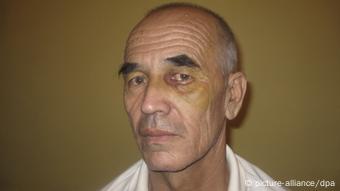 Askarov was accused of stirring up ethnic unrest in 2010.
Amnesty International had sharply criticized a supreme court decision on Tuesday to keep him in jail while a lower court reviews the case. In April, the UN Human Rights Committee had also called for his release.
Merkel, while meeting civil society representatives, also called for better treatment of minorities in Kyrgyzstan.
Kyrgyzstan seeks ties with Europe
Merkel also said she would add her weight to Kyrgyz calls for closer ties with the EU as a way to boost the economy in the resource-poor central Asian nation.
Atambayev called for talks with the EU - similar to those between the EU and Kazakhstan and Armenia. Both are also members of the Russia-led Eurasia Economic Union.
Commenting on reforms, Merkel said Germany had "great respect" for the independent route taken by Kyrgyzstan since 2010.
On Thursday evening, she was due to fly on to Mongolia.
ipj/jil (AP, Reuters, dpa)