The two candidates for chancellor made their last-ditch bids for support on Saturday, pleading with Germany's 61.5 million voters to cast their ballots in the long-awaited national election.
Incumbent Angela Merkel was in her home state of Mecklenburg-Western Pomerania to visit the town of Greifswald and the island of Rügen. The populist Alternative for Germany (AfD) has grown its voter base in both districts, beating Merkel's Christian Democratic Union (CDU) in state elections there last year.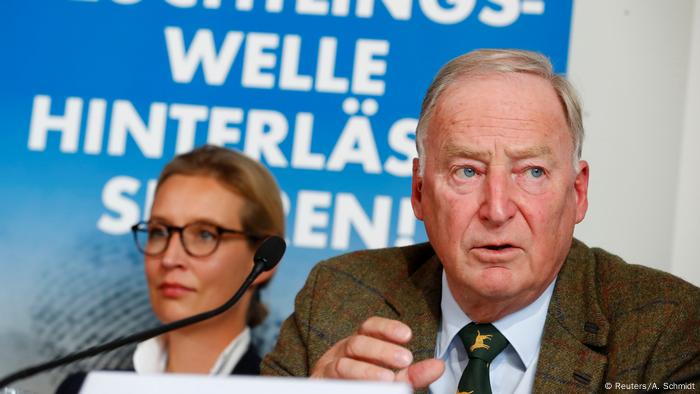 AfD leaders Alice Weidel and Alexander Gauland
Merkel told supporters in Berlin on Saturday they needed to keep up their efforts to convince undecided voters: "many make their decision in the final hours," she said.
Meanwhile, Social Democratic Party (SPD) leader Martin Schulz was addressing a rally in the western city of Aachen, close to his hometown of Würselen.
Opinion polls put the CDU and its sister Christian Social Union (CSU) party in Bavaria well ahead of the SPD, with the AfD posing a serious challenge to the Left party for third place.
AfD challenges the Left for third place
In surveys published on Friday, the right-wing AfD was seen to strengthen its third place setting by two percentage points to a projected 13 percent of the vote. The Insa survey, commissioned by mass circulation newspaper Bild, suggested the CDU would keep its top spot with 34 percent support, ahead of the SPD on 21 percent. The Left party was showing 11 percent support.
In a separate poll for Stern-RTL, the AfD was projected to win 11 percent of the vote with the CDU-CSU holding a lead with 36 percent and the SPD on 22 percent. An Emnid poll for the Bild am Sonntag newspaper showed similar results.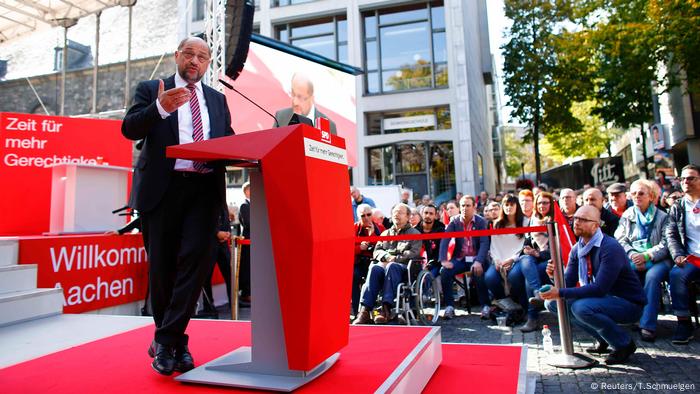 Martin Schulz speaking in Aachen
While voters have a choice of 42 parties and 4,828 candidates, the focus has sharpened on the top three, and the likely coalition which will come from the votes. While the CDU has been holding its position as the SPD weakens, if opinion polls prove correct then both parties would see their overall share of the vote fall to a level they have not seen since 2009.
The pro-business Free Democrats (FDP) look set to pass the 5 percent threshold for seats in parliament, which they failed to do in 2013, but the Greens are falling closer to the limit as support holds at 7 percent.
Low turnout?
In the last federal elections in 2013, some 29 percent of registered voters did not cast a ballot. This week, polls showed those planning either not to vote or who unsure of who to vote for was at 34 percent.
Fears of a low turnout, which many experts have said would benefit the AfD as its base is motivated to head to the polls, have encouraged mainstream parties to call for voters to turn out on Sunday.
"My request to everyone is that they vote, and vote for those parties that adhere 100 percent to our constitution," Merkel told MDR radio this week in a clear reference to the far-right party. "We have to take a clear stance when it's about our basic values."
The chancellor's comments followed controversial ones from the head of her chancellor's office, Peter Altmaier, who suggested it would be better for Germans not to vote at all, rather than vote for the AfD.
SPD Justice Minister Heiko Maas accused Altmaier of helping the AfD: "Telling people not to vote is helping the AfD's campaign, that's exactly what they want," he said.
After four years as Merkel's junior coalition partner, the SPD is facing a challenge to do well as a party in its own right and with its own policies in the elections. With her predicted fourth term in office likely to be her last, Merkel may well be talking to others to form a coalition government.
jm/rc (dpa, Reuters)