In a video message to his 7 million voters on Friday, France's far-left firebrand Jean-Luc Melenchon refused to endorse either candidate in the final run-off of the French election. However, he strongly suggested that he would vote for centrist banker-turned-politician Emmanuel Macron.
"I will go to vote... I will not say who I'm going to vote for, but you don't have to be a great expert to work it out," he said.
Although he described Macron as the candidate of "extreme finance," he said far-right candidate Marine Le Pen would be worse for France as she would "root around in the cradle to see who is French and who isn't."
However, the left-wing leader said he would not try to sway his voters to choose one over the other. "You don't need me to tell you who to vote. I'm not a guru, not a guide," he said.
Read more: Le Pen vs. Macron: Where they stand
French voters will 7 cast their ballots in the second round of the French presidential electionon May 7. Macron leads in the polls ahead of the Le Pen and it projected to capture around 60 percent of the vote.
Melenchon voters shun Le Pen advances
A poll published on Friday by the pollster Odoxa revealed that around 40 percent of people who voted for Melenchon in the first round would vote for Macron in the second run-off, 19 percent would vote for Le Pen and 41 percent would abstain.
However, despite Melechon's refusal to endorse a candidate, his spokesman Alexis Corbiere told supporters, "Not one vote should go to the National Front," also strongly implying the left-wing leader would ultimately go on to vote for Macron.
Corbiere's remarks came after he rebuffed an appeal from Le Pen to Melenchon's voter base, telling leftists that the real is the pro-EU free-marketer Macron. Both led populist campaigns against the liberal and globalist class, all with very different political messages.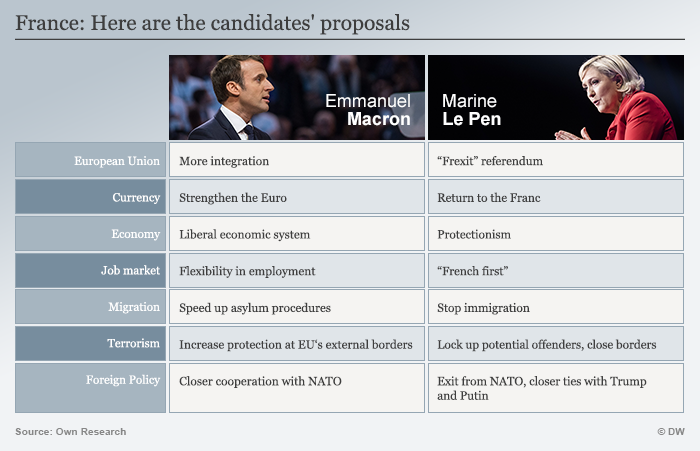 Melenchon doesn't join Macron's long list of fans
Still, Melenchon's refusal not to explicitly back Macron breaks France's "republican front" tradition, where the country's mainstream parties come together to block the National Front from gaining power.
It likely demonstrates Melenchon's intention to maintain his independence ahead of June's parliamentary election. His strong showing in the first-round of the election on Sunday, garnering nearly 20 percent of the vote should give his leftist movement a firm foundation for future votes.
Read more: Picnicking with France's left-wing presidential candidate Melenchon
Virtually all French lawmakers outside of the FN have come out in support of Macron in the second round, as well as a long list of intellectuals and celebrities.
German Chancellor Angela Merkel joined that list on Friday, after she told Germany's RND media group that he had "absolutely no doubt that Emmanuel Macron will be a strong president if he is elected, as I hope he will be."
When asked whether the centrist candidate needed to prove he is not a "German poodle" who would heed its bidding, Merkel called the term "simply absurd."
dm/sms (AFP, Reuters, dpa)