While Berlin, Hamburg and Cologne have some catching up to do in terms of being fashion hubs like New York, London or Paris, there are a number of Germany-based bloggers who are using social media and their style skills to change the world's perception of German fashion.
One of them is Aminata Belli (top picture), the German-Gambian blogger who was once a fashion assistant at GRAZIA before she became a digital influencer with a YouTube channel and a sizeable social network following.
Her down-to-earth, positive messaging - broadcasted almost daily on Instagram (@aminatabelli) - and versatile wardrobe choices play a significant role in her mass appeal.
The 24-year-old, Hamburg-based Belli attributes her success to her "presence at fashion weeks and fashion events and of course, social media." It also helps that one of her friends is the massively popular blogger, Caroline Daur (@carodaur).
Read more: 'German fashion is still ridiculed'
Fashion Week - the place to be
When New York Fashion Week begins on Thursday, the big names of the fashion world, including German fashion bloggers, will attend the designer shows and cover the latest trends and parties.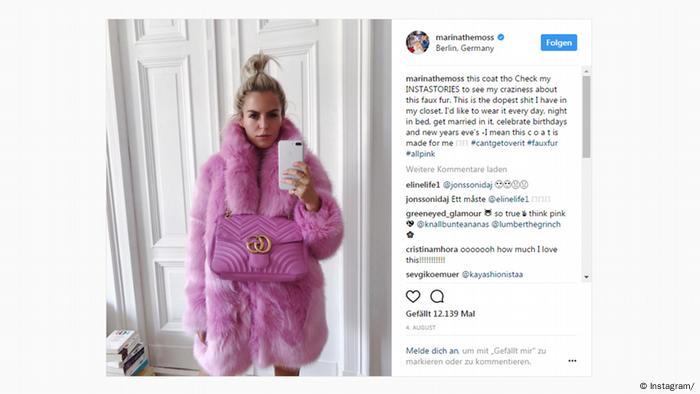 Marina Ilic's fans know her style as "Marini"
Berlin-based, 31-year-old Marina Ilic, who goes by @marinathemoss on Instagram, will be also traveling to both New York and later to Paris, where Fashion Week opens later this month, after London and Milan have their turn.
"Fashion shows certainly have a great impact on upcoming trends," she told DW. "So I'm always happy to attend them."
Ilic has close to 200,000 followers who visit her account for everything "Marini": her cultish, bed-head bun, her signature bohemian feminine style, and her laid-back lifestyle with the allure that she could be anyone's instant best friend.
Each of her Instagram photos could easily be a page taken from a magazine: good lighting, light touches of make-up and style on point.
'Not just socks and sandals' in Germany
With the rise of German fashion bloggers within the international style scene, these young women are changing the way people see German style. As Belli told DW via email, people "understand it's not just socks and sandals. German fashionistas are as creative as everyone else in the world."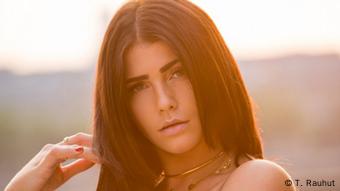 Fashion should be inspiring, says Farina Opoku
When it comes to how being German has helped her influence the fashion world, blogger Farina Opoku, known as @novalanalove on Instagram, doesn't seem to think in terms of cultural influences.
"I think I just try to be an inspiration for my followers, so I can help them find their personal style or at least try something new and more extraordinary. I think fashion should always be inspiring, doesn't matter where you live or what body type you own," she told DW.
The 26-year-old, Cologne-based blogger is constantly on the go with tips for travel, fashion and beauty. Her audience of over 725,000 Instagram followers visit her profile for her latest adventures, often with collaborations and sponsorships.
Read more: Men in skirts: How fashion is redefining masculinity
Opoku also maintains a personal website and Snapchat account. She embraces a self-described "boho chic and feminine" style which remains popular amongst her fan base - for whom her site apparently isn't just about superficiality. One user recently commented on a glamorous snap of Opoku twirling her hair at a restaurant with a plate of crepes in front of her: "So beautiful. Inside and out."
From Germany to the world
Like many social media stars, these four German fashion divas rose quickly to stardom - and were boosted by a skilled nose for trends and of course a bit of luck.
"I worked at a boutique here in Cologne and just took pictures of my daily outfits and the new collections we got in stock," recalled Opoku. "First, I had mostly followers from Cologne who were interested in what's new at the boutique and then it started to take over to other cities. Now people are following me from all over the world."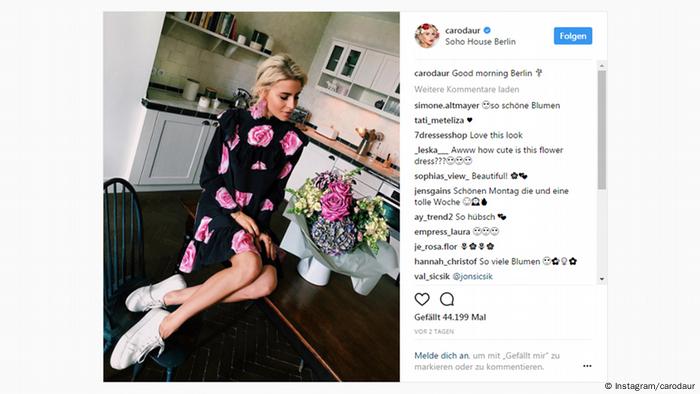 Instagram mega-star Caroline Daur changes her style all the time
Similarly, Caroline Daur, the most-followed fashion blogger of this group with an audience of over 1.1 million, says, "It was a process that was not at all planned. I started posting private pictures on social media channels, and over time I became interesting for more and more people. The first inquiries followed, which were often connected to travel. Through these means, I have met many people from all over the world and so the whole thing has become increasingly international."
The 22-year-old, Hamburg-based social influencer has worked with brands such as MAC, Cartier, Dior, and Tommy Hilfiger. She also has a shoe collaboration out now with label Superga.
'German style doesn't exist'
Daur is one of the most successful social media stars to come from Germany, and just like Belli, Daur's style changes with almost every post. It's nearly impossible to describe in one word. One day Daur dons all black, the next day, she's mixing polka dots and florals.
While these top-notch Instagrammers are unabashed about their German home base, their secret to global success seems to be staying as cosmopolitan as possible and being hard to put in a box.
"The typical German style does not exist in my opinion," says Daur. "I think we can get inspiration from many countries and cultures around the world."
Though the world will always have the enduring German fashion icons like Claudia Schiffer, Karl Lagerfeld and Heidi Klum, today it's Caro, Aminata, Farina and Marina who are making names for themselves and reshaping the German fashion identity - one click at a time.