Child refugees in Germany have greater entitlements than those over 18. But many new arrivals in their late teens do not have documents to prove their age, especially if they travel without their parents. In those cases, medical tests can be used to determine whether they are legally children or adults. But doctors and support organizations sharply criticize the examinations.
Hamburg and Berlin have used the tests for many years. Doctors assess a young person's age by checking their physical appearance, their teeth and also by X-raying certain bones like the hand bones or the clavicle. Last November, those tests were rolled out across Germany.
Young refugees who are found to be 18 or under are taken into youth accommodation and given a legal guardian. They receive financial and practical support, they go to school and gain the right to bring their parents to Germany. Much of their life hinges on the outcome of the medical test.
Frequently uses test
In Hamburg, around 1,000 such examinations were carried out last year by two doctors at University Hospital Eppendorf. This year, that number has dropped sharply because many refugees are moved to other states before their ages are assessed. Each test lasts around two hours and a summary of the findings is usually released the same day.
Klaus-Dieter Müller, the chief executive of the department in charge of the city's system, the LEB, says there is no method that can prove a person's age down to the day. Where doctors determine that a refugee is aged between 17 and 18, the person is given the benefit of the doubt and officially deemed to be 17 years old.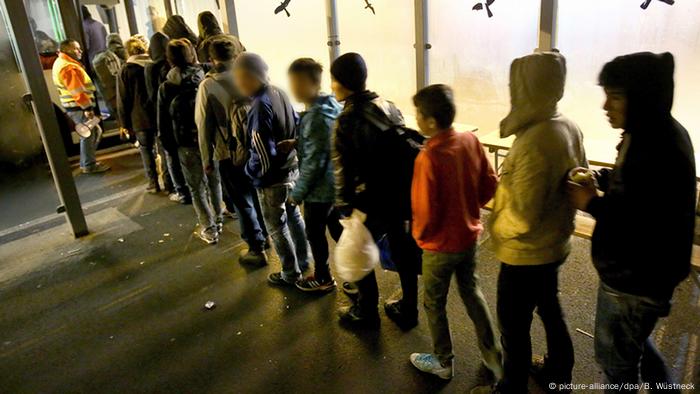 Teen refugees line up at a transit shelter in Rostock
He adds that the tests are voluntary and can be requested by the young refugees who want to prove their age, as well as by the authorities. The examinations are only one part of the age assessment process, he says, during which each refugee is interviewed and observed by specially trained educators.
But doctors and those who support young refugees say the examinations have a large margin of error and are invasive. The German doctors' organization, the Bundesärztekammer, has voiced strong criticism. Its president, Professor Dr. Frank-Ulrich Montgomery, said last year: "First, it is scientifically impossible to determine a person's age with such precision. Contrary to legal thinking, you cannot prove beyond doubt by medical methods that someone is marginally below or above 18 years of age.
"Secondly, X-rays are used in these examinations. For people who have not committed any offenses, this is a violation of their right to their physical integrity and that is why German doctors' congresses have repeatedly rejected age assessments by X-ray."
A spokesman for the Bundesärztekammer told Deutsche Welle that the organization is considering the issue again and is likely to comment later this month.
Refugee organizations are also deeply concerned about the use of the tests. Heiko Habbe is a lawyer and works as an adviser at Fluchtpunkt, a group that helps young refugees in Hamburg. He says: "The medical and visual assessments of a young person's age suffer from grave inaccuracies, according to expert opinion. They are mere guesstimates.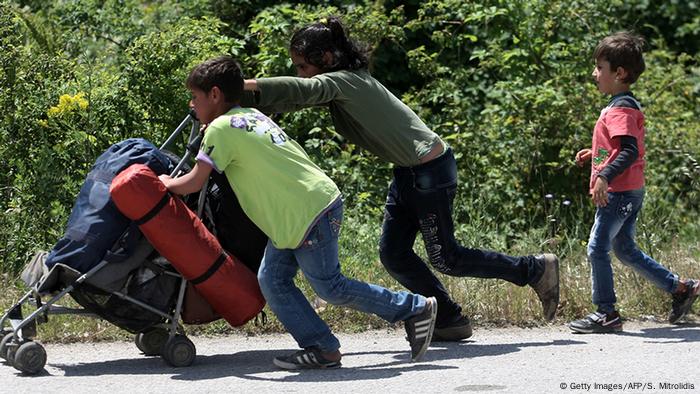 More and more young refugees are traveling alone
"Yet so much depends on those tests: whether the young people can access language courses and youth support, educational qualifications, even whether they can bring their parents to this country. That is no longer possible if they turn 18.
"The medical age assessment is a questionable method. It serves the authorities, who want to provide a sense of security for the courts and the administration."
Better procedure?
Mr Habbe says Fluchtpunkt would prefer a longer clearing process, where the young person is allowed to settle in and can be observed over a period of time. This, he says, would provide a better assessment of their needs.
The medical tests are set to stay. The number of refugees coming to Germany has dropped sharply this year, but the proportion of unaccompanied children among them is rising. 25, 675 children and teenagers arrived in Germany on their own between January and the end of July this year, according to the Department for Migration and Refugees, BAMF. That compares to 17,909 unaccompanied refugees for the whole of 2015.
UNICEF, the United Nation's children's agency, estimates that 28 million children and young people are now fleeing war and other dangers worldwide. 11 million of them have left their home countries and are seeking refuge elsewhere. UNICEF says the number of young refugees traveling unaccompanied has trebled since 2014.