Hundreds of citizens of Gdansk turned out on Monday evening to mourn the death of the city's longstanding mayor, Pawel Adamowicz, who was stabbed on stage at a charity event on Sunday.
Adamowicz was a former member of the Civic Platform party, Poland's previous government before the Law and Justice (PiS) party came to power in 2015.
"We couldn't win," Poland's Health Minister Lukasz Szumowski told reporters, confirming the mayor's death on Monday.
Mourners held candles and some in the crowd held a sign that read "stop hate."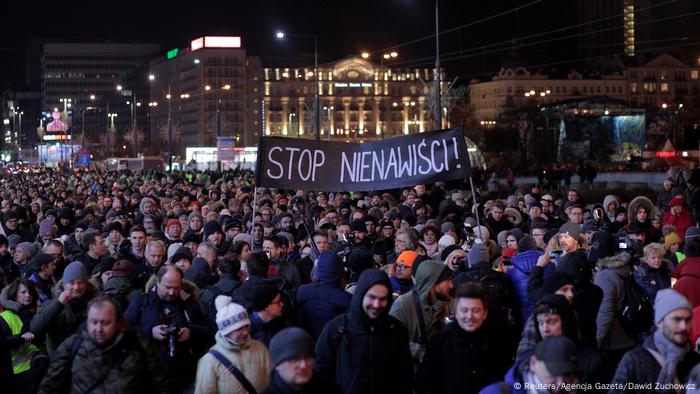 People flocked to the city center of Gdansk and other cities accross Poland
Condolences pour in
Politicians across Poland's political spectrum condemned the stabbing. "I'm expressing great pain for the tragic death due to the criminal attack on mayor Pawel Adamowicz. We express solidarity with his family," Jaroslaw Kaczynski, PiS party chairman said.
The president of the European Council and former prime minister of Poland, Donald Tusk, reacted to the news with a message on Twitter.
"Pawel Adamowicz, Mayor of Gdansk, a man of Solidarity and freedom, a European, my good friend, has been murdered. May he rest in peace," Tusk wrote.
"We are profoundly saddened and shocked at the death of Pawel Adamowicz, the mayor of Gdansk," German Foreign Minister Heiko Maas wrote on Twitter. "Our thoughts at this time are with his family and friends. We stand in solidarity with our close friend and neighbor, Poland."
Polish President Andrzej Duda opened a news conference with a minute of silence in memory of the Gdansk Mayor. Duda said the attack was an "evil hard to imagine" and a "blow to our community of people who want to do good."
He called Adamowicz a "truly great human being, a great politician and great resident of Gdansk."
Gdansk lowered its city flags to half-staff, following the news of the death.
Details of attack
Mayor Adamowicz was attending the final day of a charity event organized by the Great Orchestra of Christmas Charity.
A assailant, allegedly a 27-year-old man, stormed the stage and stabbed the mayor.
In a spectator video, the attacker was seen taking a microphone and addressing the crowd, claiming he had been wrongly jailed and tortured by the Civic Platform government.
Security personnel swiftly pinned the suspect down and then the police arrested him.
Doctors said Adamowicz sustained serious damage to the heart, diaphragm and organs in the abdominal region during the stabbing.
The mayor underwent five hours of surgery in an attempt to save his life.
A difficult transition
Political tensions have picked up in Poland in recent years, after PiS won a heated 2015 election in which the Civic Platform lost almost three-quarters of its seats in parliament.
Read more: Opinion: PiS popular in Poland, isolated abroad, integral to Europe
A contentious PiS program of government, coupled with ongoing criticism of the previous government, continue to divide the electorate.
Who was Pawel Adamowicz?
As Gdansk's mayor since 1998, Adamowicz was one of Poland's progressive voices. He supported sex education in schools, LGBT rights and tolerance for minorities.
He had also advocated bringing wounded Syrian children to Gdansk for medical treatment, a plan that was blocked by the PiS government.
Adamowicz's political career began in the 1980s, when he was part of the democratic opposition formed in Gdansk under the leadership of Lech Walesa.
Born in 1965, he won a total of six terms as mayor, the most recent secured late last year. He ran as an independent in 2018, but remained critical of the PiS government.
His wife Magdalena is a law professor at the University of Gdansk; they have two daughters, Antonina and Teresa.
Read more: Lech Walesa: Poland's current leaders 'are either traitors or complete fools'
Investigation underway
Polish prosecutors say the suspected attacker, a 27-year-old, is being investigated for murder and will also be subjected to a psychiatric examination.
If convicted, the attacker could face a punishment of life in prison.
Polish Justice Minister Zbigniew Ziobro said prosecutors were looking into the suspect's criminal record. He is said to have been convicted in relation to several bank robberies and has reportedly spent more than five years in jail.
jcg/se (AP, AFP, Reuters)
Each evening at 1830 UTC, DW's editors send out a selection of the day's hard news and quality feature journalism. You can sign up to receive it directly here.