When the home minister of the central Madhya Pradesh state, Babulal Gaur, described rape as a social crime, saying "sometimes it's right, sometimes it's wrong", he not only sparked a huge controversy in the vast South Asian nation, but also invited the wrath of social media. The minister from PM Narendra Modi's ruling Bharatiya Janata Party (BJP) also insisted that governments could not ensure that women do not get raped.
Reactions
The remarks triggered heated reactions from the Opposition Congress party, and protests broke out outside the minister's home on Friday, June 6, with women activists staging a sit-in demonstration and demanding his resignation.
"Gaur does not deserve to be home minister if women have to protect themselves against criminals," Mandvi Chouhan, a member of the opposition Congress Party, told DW.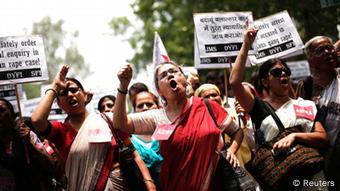 The recent brutal rape cases have triggered protests nationwide
Public outrage erupted last week following the rape and hanging of two teenage girls in a rural village of the northern Indian state of Uttar Pradesh. "It is such a chilling crime. How can anyone expect a minister to talk like this?" asked Kavita Datta, an Information Technology student.
"We always knew that we should not expect security and protection from the state, and that we have to defend ourselves. Gaur's statement is proof of that," Priti Goel, a corporate executive in New Delhi, told DW.
Social media users, too, were quick to denounce Gaur. "A woman in India is raped every 20 minutes, whereas people like Babulal Gaur make stupid comments every 10 minutes," Magat Jhunjhunwala wrore on Twitter.
"Gaur needs a tape on his mouth, things will change for the better," tweeted Harsh Uberoi.
Insensitivity
The Indian home minister's remarks are the latest in the series of controversial statements made by the country's lawmakers. Two months ago, Mulayam Singh Yadav, another politician, challenged the death penalty handed out to three men convicted in the gang-rape of two women in India's financial capital Mumbai. Yadav said the culprits did not deserve death sentence since "boys will be boys," and that "boys make mistakes."
Abu Azmi, another prominent leader belonging to Yadav's Samajwadi Party, followed suit saying even rape victims should be punished for getting raped.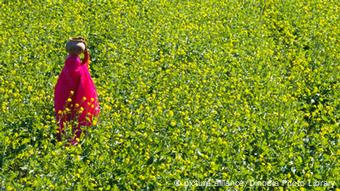 India may have tightened its rape laws, but sexual violence continues unabated, say observers
But perhaps the most sexist comments came from the former chief minister of the northern state of Haryana, Om Prakash Chautala. The politician said "child marriage" could be helpful in reducing the number of rapes and other crimes against women.
In the aftermath of the brutal gang rape and murder of a young woman on a moving bus in the Indian capital in December 2012, India tightened its rape laws and expanded the definition of violence against women. However, sexual violence continues unabated, say observers.