Williams, whose expertise has taken him to Harvard and Geneva, was appointed Thursday as the sixth current justice of New Zealand's Supreme Court, the South Pacific nation's top court for appeal cases.
Attorney-General David Parker said William's appointment was "required" after Prime Minister Jacinda Ardern announced last month that fellow Supreme Court justice Sir William Young would head New Zealand's inquiry into the March 15 mass-shooting at two Christchurch mosques.
Williams, born in 1961 and fluent in te reo Maori — New Zealand's other official language, alongside English — was the first member of his extended Maori family to obtain a high school-leaving certificate.
That was when indigenous New Zealanders pressed unresolved colonial-era land-loss grievances at the Waitangi Tribunal, named after a treaty signed in 1840 between diverse tribes and the British crown.
Williams graduated in 1986 from Victoria University, Wellington, and two years later completed a Master of Law at Canada's University of British Columbia.
Until then, there had been only two other Maori students in his second-year law class, Williams told Radio New Zealand (RNZ) in 2017, when he was appointed to New Zealand's Court of Appeal — a step below its last-resort Supreme Court to which he now belongs.
'Aboriginal self-governance'
His studies in Canada were life-changing, he told RNZ: "I discovered the idea of aboriginal title, of aboriginal self-governance, which was the very mainstream in Canada… and brought them back to New Zealand."
On his return, Williams first established a Maori unit inside a major New Zealand law firm while also specializing in environmental issues, and even made headlines in 1985 as a member of a reggae-style band whose songs called for Maori youth pride.
Williams went on to head New Zealand's Maori Land Court, then chair the Waitangi Tribunal, before holding judicial posts on New Zealand's high and appeals courts – reformed in 2003 by removing a long-standing final appeal channel to Britain's Privy Council.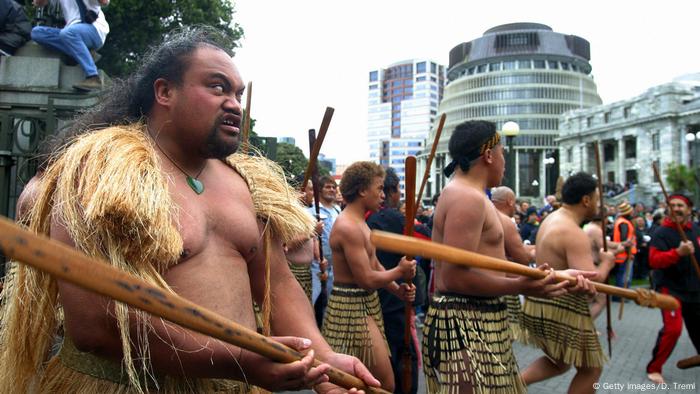 Wellington, May 2004: Maori protest controversial seabed legislation outside parliament
Making judgments in a diverse society
The Supreme Court is now headed by Chief Justice Helen Winkelmann, whom the court says is keen on training for judges to give them "the context necessary to enable them to judge in a diverse society."
Lawyer Anne Sykes, who studied alongside Williams in Wellington, said Williams' Supreme Court appointment Thursday was a "milestone" for New Zealand.
"It's the kind of development that will ensure the recognition of the underpinnings of the first law of this nation, tikanga Maori," Sykes said, referring to a wide-ranging term for indigenous culture.
Justice Williams had shown how tikanga Maori intersected with law introduced by colonizers and would enhance co-existence, Sykes said.
Extended family background
Complex tribal genealogies, often cited in defining identity in New Zealand, link Williams to Ngati Pukenga and Te Awara, two tribes based in the Bay of Plenty, Hauraki and central regions of the North Island.
Educational trends in recent years had changed "massively," Williams told RNZ, with the latest generation producing a "critical mass of Maori legal talent."
Last year, Williams attended a Harvard University forum on American Indian economic development and in 2015 briefed the UN's World Intellectual Property Organization (WIPO) based in Geneva on settlement efforts in New Zealand.
The "secret," he said, was "not to try to cast one system within the frame of the other," but reach a "meeting point" between different cultural concepts of ownership.