The Ukrainian government is carrying out another military operation against pro-Russian activists in the eastern city of Slovyansk. It is the third attempt since mid-April to bring the situation in the eastern provinces of Donetsk and Luhansk under control. Currently, more than a dozen cities are controlled by armed pro-Russian supporters of the "Donetsk People's Republic". They have occupied administration buildings and raided arms depots.
The separatists have made Slovyansk their stronghold. On May 11, they want to carry out a referendum, although not internationally recognized, in a number of cities in eastern Ukraine. The referendum is about more autonomy, or joining Russia. The Ukrainian government is convinced that Russian special units are among the masked fighters, even if Russia denies this accusation.
Growing criticism of the government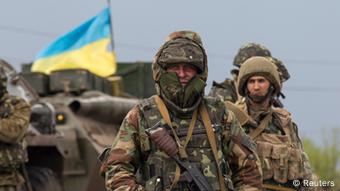 The Ukrainian miltary has started a long-awaited offensive against separatists in the east
The government is in a "difficult dilemma", said Steven Pifer, a former US ambassador to Ukraine, in an interview with DW. Pifer is now working for the Washington-based think tank Brookings Institution. "The use of force could provoke a military intervention by Russia," said Pifer. But if the government does nothing, it could lose eastern Ukraine.
The military operation in Slovyansk is a direct consequence of the public's biting criticism of the government's previous position, thinks Volodymyr Fesenko, a political expert in Kyiv. "They have been forced to show determination," he said in an interview with DW.
Meanwhile, Interim President Alexander Turchinov has admitted that the government has lost control of parts of eastern Ukraine. The critical mod has been fueled by anonymous reports that Ukrainian special forces until recently had no orders from Kyiv to attack the separatists. The government has neither confirmed nor denied the reports.
Against this background, demands for a change in government have grown. Already, a topic of discussion in the media and on social networks is whether there could be a "third Maidan," a reference to the earlier mass protests on Kyiv's Independence Square, which led to a change in government once in 2004, and most recently, to the ouster of President Yanukovych this past winter.
Possible change of mood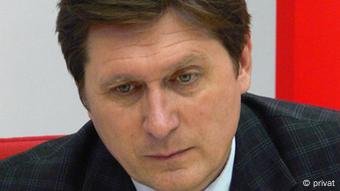 Political expert Fesenko warns of a "third Maidan"
Until now, the attitude prevailed that the government should not be criticized or overthrown during a "de facto state of war". But this mood could shift. "If nothing happens in the next hours and days, I propose viewing the leadership as traitors," wrote one activist from the eastern Ukrainian city of Kharkiv on his Facebook page. "Then, the people on Maidan will put them on trial." His message has already been forwarded and reposted thousand of times.
This opinion is obviously shared by many Ukrainians. Recently, there have been several attempts by discontented citizens to protest in front of Parliament and other government buildings in Kyiv; but, only a few hundred people took part and their actions had little effect.
Among the most prominent proponents of a change in leadership in Kyiv is Anatoliy Hrytsenko, a former defense minister. Parliament should vote Interim President Alexander Turchinov out of office because of his passive stand on eastern Ukraine, the politician wrote on his blog. Hrytsenko was a member of former Prime Minister Yulia Tymoshenko's party, but left after a dispute with the party leadership.
Expert: wait for new elections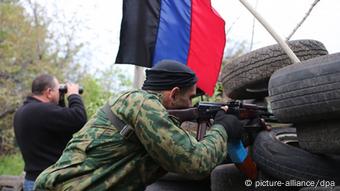 Pro-Russian activists want a referendum about the future of eastern Ukraine
Political researcher Fesenko views government critics, like Hrytsenko, as mavericks, but warns of the consequences of a "third Maidan". "That would be either a farce, or the beginning of the ultimate disintegration of the Ukrainian state," he said.
Many accusations against the government are justified, but a change at the top would be counterproductive, he stressed. We should wait for the early presidential elections on May 25.