A huge building towers over the campus of the Pontifical Catholic University of Chile in Santiago like a weighty monster. It's a grey concrete block with lightwells, glazed on the inside. With no need for air conditioning, it's communicative and energy-saving. Alejandro Aravena's student center juts out from the Chilean city like an exclamation mark.
"We architects shape places where people live," the 48-year-old says. "It's complicated and easy at the same time."
Combining beauty and efficiency has always been an architect's hardest job. Aravena sees himself as providing a social service rather than only designing buildings that are aesthetically-pleasing.
"When we begin, our projects are as far removed from architecture as possible," Aravena says. His first thoughts circle around a building's residents, linking their needs to environmental demands, what he calls "Social Housing." Architects, city planners and politicians worship Aravena.
'Half of a good house' for the poor
Aravena first found his way to fame with the "Quinta Monroy" project, to which he was contracted by the Chilean government to create social housing in the port city of Iquique at the edge of the Atacama Desert. The budget was barebones and because the state's contribution did not stretch far enough to buy the entirety of the land for the construction, Aravena took a radical step: He finished the houses only halfway.
One room, a kitchen, a bathroom and a roof over their heads; the rest was to be finished by the residents of the house themselves. "Half of a good house" is the name Aravena gave to the concept. Thousands of such houses have cropped up since then, not just in Chile but also in Mexico. A Chilean family pays 300 dollars upon moving in. They receive a grant worth 7,300 dollars (6,500 euros).
Aravena sets high standards for quality, something that is unusual for social housing projects. "We have redefined quality as something that gains value over time," said the architect in a recent interview.
After five years, the residents may sell their house: "Some have done this and gotten 65,000 dollars for it," he said. "In social housing, it's not only about getting a roof over a person's head but also about being an instrument against poverty."
Long discussions with residents
Aravena's biggest project is the reconstruction of the city of Constitución. A tsunami crashed into the Pacific coastal city in 2010, turning it into a ghost town. Aravena met with residents there to discuss the project and determined what their greatest worries were: How could they retain open access to the river? How does one prevent flooding due to rain? How could they make public squares better? The architect drew up a master plan. Along the coast, there is now a park area with forests that soak up the rain water and slows the tsunami waves. There are more open spaces. Aravena pushed a program for development and with the money saved, the city can now afford to open a cultural center and a library.
"The role of the architect is now being challenged to serve greater social and humanitarian needs, and Alejandro Aravena has clearly, generously and fully responded to this challenge," read the statement by the jury of the Pritzker Prize in April 2016, when they announced their decision for the 48-year-old Chilean.
Aravena had already been winning recognition for his work for 15 years, beginning the year directly following his graduation from the Catholic University in Santiago de Chile, his hometown where he continues to reside.
Seizing a second chance
Aravena comes from a family of teachers. Already as a child, he was dreaming of building houses. His first working experience, however, frustrated the architect:
"I had terrible construction managers," he recalled. "People, who were conniving and tried to get away with ripping you off." So he quit the job and closed his office, opening a bar instead. How did he make it back to the drawing table, so to speak?
"At some point I just thought, I should give myself a second chance and instead of running away from the problems, confront them."
In 1994, Aravena opened his first company, Alejandro Aravena Architects, from which he still continues to oversee projects around the world. Their main focus is on climate protection and sustainability. Since 2001, he is also the head of Elemental; this is not just a think-tank according to Aravena, but rather a "do-tank" for infrastructure, city planning and housing.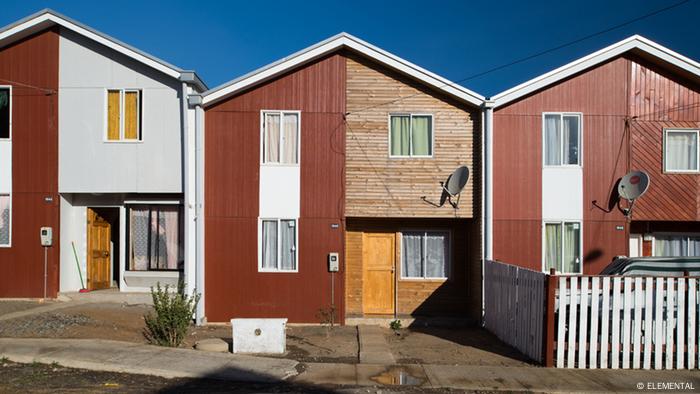 "Half of a good house" - social architecture conceived by Aravena
"Reporting from the front" - that's the motto, stolen from military vocabulary, for the 2016 Venice Architecture Biennale, which Alejandro Aravena is directing. He doesn't want to compare architecture to war but he does see it as a struggle for quality of life - despite all of the "limitations, the limited money and the urgency of the theme."
He has organized his Biennale as a report from the front lines to highlight the best practices from the offices of his colleagues.
"We want to learn from architects," he writes on his website. "Finding the strengths in what does exist in spite of limited funding, instead of complaining about what is missing." He sounds like a bit of a social critic when he continues to extrapolate on his expectations, wanting to find out, "which tools we need to infiltrate the powers that prioritize individual profits over collective uses and reduce the 'we' down to an 'I'."
That sounds like a summary of Alejandro Aravena's manifesto for a new architecture.