Malaysian police announced on Friday they found the nerve agent VX on the body of Kim Jong Nam.
A statement from Malaysia's inspector general of police said that a preliminary analysis from the Chemistry Department of Malaysia identified the agent as Ethyl S-2-Diisopropylaminoethyl Methylphosphonothiolate - the chemical name for VX.
VX is a tasteless and odorless liquid that is fatal to humans on skin contact. It is the most toxic nerve agent known, according to the US government's Centers for Disease Control and Prevention and is classified as a weapon of mass destruction by the United Nations. The production and stockpiling of more than 100 grams per year was outlawed by the Chemical Weapons Convention of 1993.
In 1994, a member of Japanese doomsday cult Aum Shinrikyo used VX to attack three people, killing one by sprinkling the nerve agent on the victim's neck.
Police said they were investigating whether the chemical was brought into Malaysia or made in the country. Inspector-General of Police Khalid Abu Bakar said earlier that the two women who were paid to carry out the assault had washed their hands before fleeing from the airport.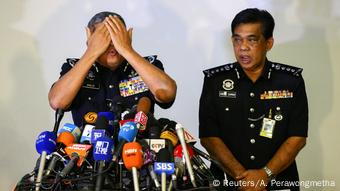 Malaysia police chief Khalid Abu Bakr demonstrates to the audience in regards to how Kim Jong Nam died
Safety concerns
When asked by the Associated Press when decontamination of the airport would take place, Khalid said, "We are doing it now."
Later, when asked if people should avoid the airport out of contamination fears, he said, "No.No. No. But I don't know. I am not the expert."
A tiny amount of this nerve agent - equal to a few grains of salt - is capable of killing, Dr Bruce Goldberger, a leading toxicologist who heads the forensic medicine division at the University of Florida, told news agency Associated Press.
"It's a very toxic nerve agent. Very, very toxic," he said. "I'm intrigued that these two alleged assassins suffered no ill effect from exposure to VX. It is possible that both of these women were given the antidote."
Multiple arrests, multiple nationalities
Malaysian authorities arrested two women last week, one Indonesian and one with a Vietnamese passport, for their alleged roles in the attack. On Wednesday they also arrested 47-year-old Ri Jong Chol, a North Korean who had a Malaysian work visa for a small herbal medicine firm and lived in Kuala Lumpur with his wife and two children.
Malaysia's police chief said Thursday that investigators wanted to question a North Korean embassy official with diplomatic immunity. Khalid said police also asked Interpol to issue an alert for four North Korean men who left Malaysia the same day Kim Jong Nam was attacked.
South Korea blamed the assasination on the shadowy North Korean agency called the Reconnaissance General Bureau (RGB). The RGB is North Korea's "premier intelligence organisation", according to the United Nations, which placed sanctions on it in March last year for its role in North Korea's arms trade.
Apparent seizure at airport
Kim Jong Un reportedly had a standing order on his half-brother's death, after he spoke out publicly against his family's dynastic control.
The exiled Jong-Nam was attacked as he readied to board a plane to Macau. CCTV footage showed two women approaching the 45-year old and appearing to push something in his face.

Malaysian police said he suffered a seizure and died before he reached hospital. An autopsy ruled out heart failure, and investigators had focused on the theory that a toxin was applied to his face.
On Wednesday North Korea accused the Malaysian government of colluding with South Korea in organizing the assassination.
aw/rc (AFP, AP, Reuters)