Malaysian Deputy Home Minister Wan Junaidi Tuanki Jaafar on Thursday played down allegations that burial sites found in the jungle near his country's border town of Wang Kelian were mass graves. Police forensic teams began examining shallow graves last weekend.
Malaysia had previously denied turning a blind eye to people-smuggling deaths and alleged police complicity, despite activists' claims that the Thai-Malaysian border area had long been a transit zone for traffickers.
Graves were found on the Thai side of the border in early May.
Visiting Wang Kelian on Thursday, Wan Junaidi confirmed earlier reports that police had found 139 bodies wrapped in shrouds, buried singularly and marked by wooden sticks.
He said the bodies were wrapped in white cloth "like a Muslim burial."
"There is no mass grave. This is one person, one grave," Wan Junaidi said.
Police officers detained
"The reason for the exhumation is to see whether a crime has been committed, violence was made against those people," he told reporters.
He added that the forensic work at the abandoned jungle camps should be completed by the first week of June.
Junaidi said only two of 12 police officers detained during investigations into the trafficking were "connected to the graves at Wang Kelian."
The pair were suspected of involvement in transporting the migrants, he added, but he did not elaborate.
Routes in disarray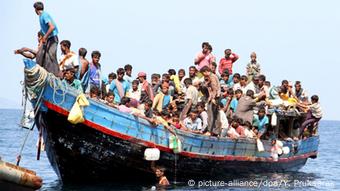 Migrants head for Malaysia
A Thai crackdown in early May on transit camps through smuggling routes into disarray, leaving thousands of Rohingya and Bangladeshis stranded at sea on rickety boats.
Migrants had often traveled to Thailand by boat and then overland through the dense jungle into northern Malaysia. Migrants were typically held at the camps until a ransom was paid.
Officials of 17 Asian nations as well as from Switzerland, the United States and international organizations will hold talks in Thailand on Friday on the crisis.
ipj/jil (Reuters, AFP)