Thursday's so-called "Mafia Capitale" trial in Rome exposed how Massimo Carminati and Salvatore Buzzi's used kickbacks and intimidation to win city contracts and ultimately pocket millions in public funds for themselves.
For years, their racket controlled key municipal services, including rubbish collection, park maintenance and refugee centers.
More than 40 defendants, many of whom were former city officials associated with Carminati and Buzzi's criminal ring, were also found guilty.
Read more: Italy busts 'mafia operation' in large migrant center in Calabria
The gang would become known as the Mafia Capitale, as investigators alleged that they had uncovered evidence of a new crime syndicate that used Mafia-style methods to hold sway over the Italian capital's resources.
The pair was arrested in December 2014.
Cleared of Mafia charges
The prosecution had asked for Carminati and Buzzi to be sentenced to 28 and 26 years in prison respectively. They presented a case accusing the pair of Mafia-type crimes. Such crimes form a specific part of the Italian penal code and carry stiffer sentences.
However, in a major blow to the prosecution, the pair was found not guilty of Mafia-type charges. It would have marked the first time in Italy that the corruption findings could be tied directly back to organized crime.
"It is a ruling that partly proves us wrong," prosecutor Paolo Ielo admitted to journalists.
Nevertheless, the verdict "is very harsh" and "established the presence of a very widespread corruption system with the aggravating circumstance of the use of violence," Oxford University Criminology Professor Federico Varese told the news agency dpa.
Read more; Mafia Capitale: Landmark corruption trial begins in Rome
"The sentence is stiff, but the whole trial revolved around the question: 'Was it mafia or not?'," Carminati's lawyer, Ippolita Naso, said following the verdict. "Mafia Capitale does not exist," she said.
Carminati and Buzzi were not present at the trial, as they were already sitting behind bars in Parma and Tolmezzo under Italy's notoriously harsh 41-bis regime. The law cuts alleged mafia inmates off completely from their former criminal associates.
"The 41-bis will have to be repealed. But who will give Carminati back the 22 months spent under it?" lawyer Giosue Bruno Naso said.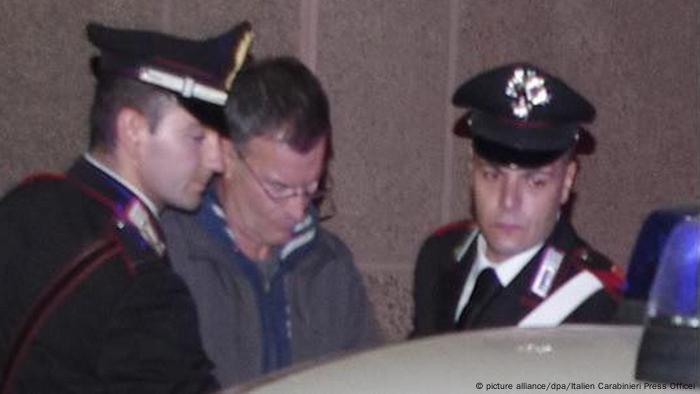 Massimo Carminati (center) was arrested in 2014 and has been behind bars under Italy's harsh anti-Mafia law known as 41-bis.
City officials also in the dock
The wrongdoing predates the tenure of Rome's current mayor, Virginia Raggi of the anti-establishment Five Star Movement, who was present for the verdicts.
Among the others found guilty were former local leader Luca Gramazio of ex-Premier Silvio Berlusconi's Forza Italia party, who was sentenced to 11 years, and former Democratic Party (PD) local figures Andrea Tassone and Mirko Coratti, who received jail terms ranging from five to eight years.
The Mafia Capital scandal engulfed Rome's former right-wing mayor, Gianni Alemanno, who held office at the height of the scandal. Mafia-related charges against Alemanno were dropped last year, but he faces separate allegations of corruption and illegal party funding.
Alemanno's successor, Ignazio Marino of the PD, was never implicated, although the scandal did trigger party infighting and ultimately his downfall. That paved the way for early elections last year and the Five Star Movement's shock victory.
dm/rt (Reuters, AFP, dpa)