Over 500 agents took part in the overnight raids that saw 68 people arrested in Calabria, officials said on Monday. The crackdown targeted the suspected members of the Arena crime clan, part of the powerful 'Ndrangheta mafia organization in southern Italy.
According to the investigators, the suspects infiltrated the large migrant reception center at Isola di Capo Rizzuto and siphoned off state funds through the complex, which is linked to a Catholic charity. The local priest Edoardo Scordio was also among the suspects.
"Some 32 million euros ($35 million) went straight into the clan's pocket," assistant prosecutor Vincenzo Luberto said. He added an accusation that Father Scordio had received 150,000 euros for offering "spiritual guidance" to the migrants.
'Money printing' through migrant center
Authorities believe that the Calabrian-based Arena clan has controlled the center for over a decade. The camp's management allegedly fixed contracts for providing food to the migrants and withheld tax payments, according to the Italian newspaper La Repubblica.
The Mafiosi reportedly set up the scheme with the help of Leonardo Sacco, the local head of the Roman Catholic Misericordia association, which is officially in charge of the Sant'Anna Cara facility.
"The Cara of Isola Capo Rizzuto had become a money-printing operation for organized crime thanks to the complicity of those who ran the center," said head of the Italian parliament's anti-mafia commission, Rosy Bindi.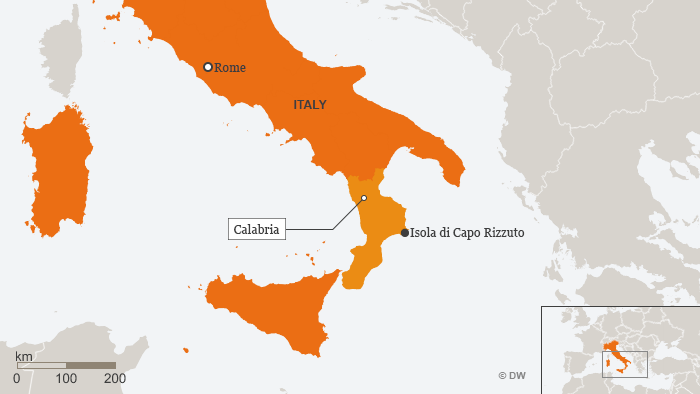 Through the center in Calabria, the mafia also made connections with two other facilities and the reception center on the Mediterranean island of Lampedusa. Commenting on the Monday arrests, Italy's anti-graft chief Raffaele Cantone said that the mafia infiltration was "just the tip of the iceberg, and certainly not a one-off case."
Paying for 'ghost' migrants
Authorities have long suspected wrongdoing in the Isola Capo Rizzuto camp, which at one time held 1,500 migrants from across the Mediterranean. An inspection in 2013 revealed that refugees were eating small portions of expired food, and that the center was illegally hosting 70 unaccompanied minors in aircraft hangars where there were only two toilets.
A year later, the local prefecture hinted that the number of people in the center might be exaggerated, with management taking money from the state for "ghost" migrants. In 2015, Italy's L'Espresso magazine reported that the managers were stealing funds and making money by starving migrants.
"If the organisation was supposed to provide 500 meals, it provided 300 and the rest went hungry," well-known anti-mafia prosecutor Nicola Gratteri said.
The Calabrian-based 'Ndrangheta syndicate is believed to be the most powerful criminal group in Italy and one of Europe's biggest cocaine importers.
dj/jm (Reuters, AFP, epd)