Hundreds of thousands of people from all over the world gathered on the streets of Madrid on Saturday to take part in the massive international WorldPride march to support gay, lesbian, bisexual, transgender and intersex (LGBTI) rights around the globe.
More than 50 floats and and people carrying countless rainbow flags set off at 5 p.m. local time under the slogan of "Viva la vida!" (Live life!), moving through the center of Madrid.
Read more: Germany's Bundestag passes bill on same-sex marriage
All of Spain's major political parties, both left and right, led the parade with a large banner that read "For LGBTI Rights All Over the World."
"For all the people in countries who are suffering persecution, we have to celebrate and make visible our pride," Jesus Generelo, the head of the Spanish federation of LGBTI people, told a large crowd after the march.
Four activists read a manifesto urging the European Union to help export LGBTI rights around the world, particularly focusing on Chechnya, Russia, and other countries that discriminate against, criminalize or torture gay people. The manifesto also called for the World Health Organization to stop categorizing transgender identity as a mental illness.
Martin Hartz Vratil and his partner traveled from Germany for the parade, excited about the recent "good news" from their home country where same-sex marriage was legalized on Friday.
"Eventually German politicians came to reality," the 37-year-old told news agency AFP.
Posters and banners with the motto "Whoever you love, Madrid loves you" were displayed around the city, including at the popular Plaza Mayor square.
The parade also coincides with the 40th anniversary of Spain's first LGBT parade that took place in Barcelona in 1977.
The WorldPride festival has been taking place in Madrid since June 22, with several events including concerts and a large human rights conference.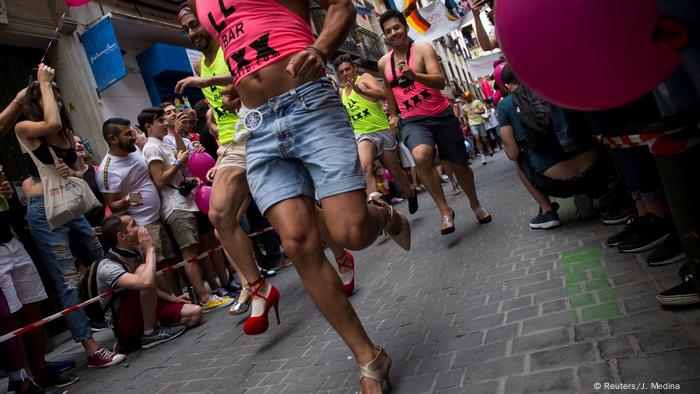 Earlier Saturday, contestants took part in an annual high heel race in Madrid's Chueca quarter
Glitz, glam and heightened security
The WorldPride march is taking place at a time of high tensions in Europe following a string of deadly attacks.
Thousands of firefighters, police and other security agents are on site for the event and two emergency lanes for possible evacuations have been set up along the parade route. Traffic restrictions and bag searches have also been put in place.
"There is no specific terrorist threat but a generalized threat," German Castineira, operations chief for Madrid police, told reporters this week.
It's the fifth WorldPride parade to take place since the event was started in 2000 in Rome.
The last WorldPride took place in 2014 in Toronto. This year, organizers called for participants to protest in solidarity with those who cannot raise their voices in places like Russia's Chechnya.
Some of the participants in the LGBTI community have criticized the presence of floats sponsored by large companies such as Google, Netflix and eBay, saying the event is becoming too commercialized.
Read more: Gay couple from Balkans now live 'without fear' in Germany
Spain legalized same-sex marriage in 2005, following the lead of the Netherlands and Belgium.
Germany joined other European nations by approving same-sex marriage and adoption in a Bundestag vote on Friday.
rs/cmk (AFP, dpa)