Spain is deploying thousands more federal police to the Catalan region in an effort block an October 1 independence referendum it says is illegal, and the Constitutional Court has ordered suspended pending further legal review.
Civil Guard police have arrested about a dozen regional Catalan officials and seized approximately 10 million paper ballots, dealing a severe blow to the organizers of the plebiscite.
The Interior Ministry issued a statement Friday saying the police "will be tasked with surveillance of public space and maintaining order and they will act in case the illegal referendum is maintained."
The statement said the extra police will provide backup for the regional Catalan police, known as the Mossos d'Esquadra, who are also under orders to prevent the staging of the referendum.
The ministry did not say how many extra federal police are being sent but local media put the figure at 3,000 to 4,000. Three ferries docked in harbors in Barcelona and Tarragona, about 60 miles (100 km) south of the regional capital, will provide accommodation for the extra police.
They will join the approximately 5,000 state police normally based in Catalonia and around 17,000 Mossos officers.
Some 2,000 protesters, many waving red and yellow Catalan independence flags, hit the streets of Barcelona on Friday for the third day of demonstrations against the Spanish authorities' crackdown on preparations for a banned Catalonian independence referendum.
Read more: Catalonia independence bid - what you need to know
Read more: Catalan leaders seek dialogue with Madrid
Also Friday, a regional judge in Catalan ordered the release, with restrictions, of six Catalan officials arrested Wednesday in a crackdown on referendum preparations. A statement said the six declined to testify.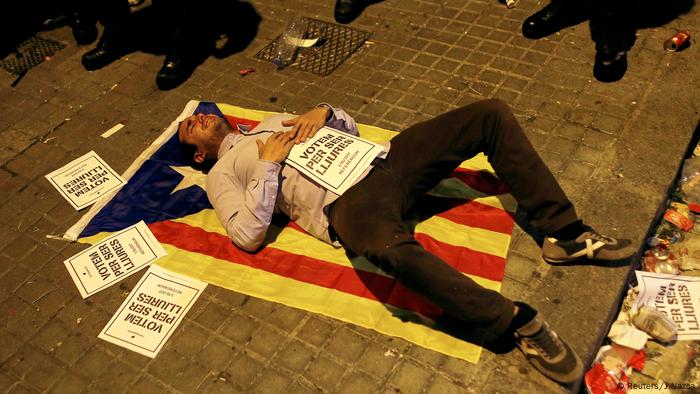 A pro-separatist demonstrator lies on a Catalan flag, clutching a poster that reads: "We vote to be free"
Abuse of power
They remain under investigation for disobedience, abuse of power and embezzlement in relation to the planned referendum and were ordered to appear before the court every week.
Hundreds of pro-independence supporters had protested outside the courthouse to demand the officials' release.
Catalonia already enjoys considerable autonomy and is one of Spain's wealthiest regions. It represents 20 percent of Spain's €1.1 trillion ($1.32 trillion) economy. The region has about 5.5 million eligible voters. Polls consistently show the region's inhabitants favor holding a referendum but are roughly evenly divided over independence from Spain.
No police in Catalonia are allowed to take time off between September 20 and October 5.
Earlier in the week, the Catalan government accused Madrid of essentially taking over the regional administration after federal police raided its offices and arrested officials. In addition, the finance ministry seized control of the local finance department amid fears that Catalan officials were using Spanish tax dollars to finance the ballot.
Read more: Catalonia kicks off referendum campaign
Read more: Spain threatens to arrest 700 Catalan mayors
Despite the setbacks Catalan's regional leader Carles Puigdemont has vowed to press ahead with the referendum, defying a court ban. .
bik/sms (AP, Reuters, AFP)