Madonna has officially opened a new children's ward at the Queen Elizabeth Central Hospital in Malawi's largest city, Blantyre.
She said that the Mercy James Institute for Pediatric Surgery and Intensive Care would provide "a superior learning environment for training Malawi's next generation of doctors so that the country can be self-sufficient in that field."
During the ceremony, which was broadcast on national radio, Malawi's President Peter Mutharika praised the singer, describing her as a "loving mother."
"We can now have our children with heart conditions undergo surgery. This centre is our national pride," the president said.
The ward is the first specialized pediatric health unit in the country of 18 million people, which the UN has named as among the 20 poorest in the world.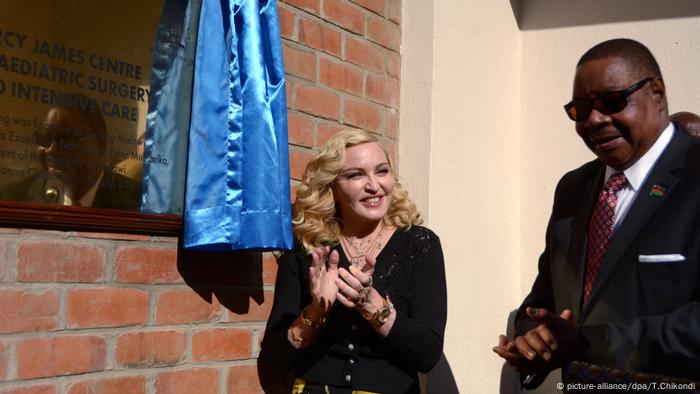 US singer, Madonna, with Malawi's President Mutharika
Raising Malawi
Four of Madonna's six children have been adopted from Malawi. The hospital ward is named after her 11-year-old adopted daughter, Mercy James.
She described her legal battles to adopt Mercy, comparing them to her fortitude in pushing for the hospital to be built.
"I fought for Mercy and I won. So I am here to say, 'never give up on your dream.' Love conquers. If you do things with love in your heart, you will conquer."
She said that she first began planning to build a hospital about 10 years ago, after making a documentary on children living with HIV in Malawi.
Her charity, Raising Malawi, has also built schools in the country. President Mutharika appointed the singer as Malawi's ambassador for child welfare in 2014. This was in stark contrast to Mutharika's predecessor, Joyce Banda, who accused Madonna of having bad manners, and of expecting people to show exaggerated gratitude.
cl/msh (AFP, dpa, Reuters)