More than 100 items which originally belonged to Madonna were up for an auction set for Wednesday.
However, following the pop star's emergency court order, a New York judge has barred the auction house Gotta Have Rock and Roll from holding the sale until the dispute is settled in court. A hearing will be held on September 6.
The items of the lot include Madonna's underwear, a checkbook, a hairbrush with some of her hair, photos and a break-up letter from the late rapper Tupac Shakur.
The singer declared in court papers that her celebrity status "does not obviate my right to maintain my privacy, including with regard to highly personal items," according to the Hollywood Reporter. "I understand that my DNA could be extracted from a piece of my hair," Madonna said.
The items were put to auction by a New York art dealer, Darlene Lutz, who also used to be Madonna's friend and had helped her pack up a house in Miami, where much of the personal memorabilia was present.
According to Lutz's lawyers, a three-year statute of limitations had passed for Madonna to seek to recover her personal property. Madonna said in court documents that she was not aware of her loss until reading press reports about the auction.
Read: Madonna in Malawi to open children's hospital ward
Revealing love letters
The 1995 letter from Tupac Shakur, one of the defining figures of hip-hop, was written while he was in prison for sexual assault. The rapper, who was killed in a drive-by shooting a year later, wrote in the breakup letter that he had ended their romance because he felt that dating a white woman could jeopardize his image.
Their relationship was only revealed publicly by Madonna in 2015. According to court papers, the Tupac letter was expected to fetch up to $400,000 (almost 350,000 euros).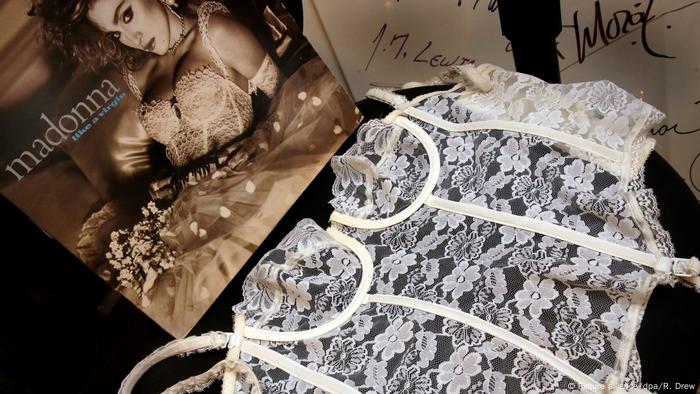 The white corset worn on the cover of "Like A Virgin" is also among the lot
Also among the items for sale is another handwritten note to a former lover, actor John Enos, from the early 1990s. Madonna wrote in it that she envied the careers of singer Whitney Houston and actress Sharon Stone, while adding that she found them "horribly mediocre," believing they had only built on her own work.
"Maybe this is what black people felt like when Elvis Presley got huge," Madonna wrote.
eg/kbm (AFP, Reuters, dpa)