Voters in mainland France are casting their ballots on Sunday for the 577-member National Assembly, in the second and final bout in France's legislative election. Pollsters predict that Emmanuel Macron's (pictured above) 15-month-old centrist La Republique en Marche (The Republic on the Move, LREM) party will claim between 400 and 470 seats.
The president cast his ballot in the northern seaside town of Le Touquet on Sunday morning, with his political ally and Prime Minister Edouard Philippe voting in Le Havre, the northern port city where he had long served as mayor.
French citizens in Guadeloupe, Martinique, Guiana and other overseas territories voted on Saturday, ahead of their compatriots in Europe.
Final turnout in the vote was estimated at between 42 and 43 percent, with 35.33 percent of voters cast their ballot by 5 pm local time. By midday Sunday, only 17.75 percent had cast a ballot, down from the 21.41 percent recorded at the same time of day during the 2012 parliamentary run-off vote.
Last Sunday's first round of voting saw the party garner 32.3 percent of the vote. In French elections, if no candidate wins more than 50 percent of the vote in the first round, a runoff is held between the top two vote-getters.
Should LREM manage to secure the majority it's predicted to on Sunday, this would allow Macron to easily confirm his government, headed by Philippe.
Macron would also be able to push through his liberalizing reforms that are opposed by both parties on the left and the far-right National Front.
Voter motivation key
Around half of LREM's parliamentary candidates have never held political office and come from the fields of academia, business or local activism. The candidates include a bullfighter and a mathematician.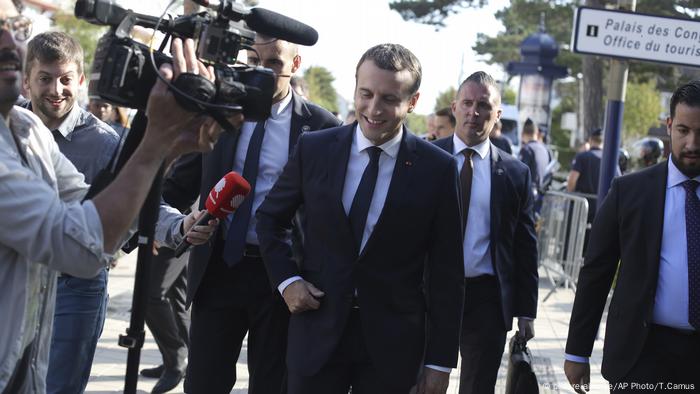 French President Emmanuel Macron's party is expected to win Sunday's runoff election
Rival parties have spent the last week trying to motivate their supporters, alerting them to the risks of a presidential supermajority, after an unprecedented 51.3 percent of registered voters did not cast their ballots in the first round.
"Looking for an opposition desperately," read the front page of Le Parisian newspaper on Saturday.
The head of the center-right Republicans campaign, Francois Baroin, urged supporters on Thursday to "realize that they must have some representatives."
The Republicans are expected to be the main opposition in parliament, with polls predicting they will garner between 80 and 132 seats.
dj,rs/jlw (AFP, dpa)