Four policemen clashed with an "armed terrorist group" in the northern town of Kumanovo, Macedonian authorities said on Friday. Three of them were taken to a hospital in the capital Skopje, which is about 40 kilometers away from Kumanovo.
The region, mainly populated by ethnic Albanians, saw fighting during an ethnic Albanian insurgency in 2001, hospital sources said.
Terrorist group remains unmentioned
Interior Ministry spokesman Ivo Kotevski refused to give more details to reporters about possible casualties in the incident, referring to the ongoing nature of the operation.
A "well-trained terrorist group" had entered Macedonia from an unspecified neighboring country with a plan to "perform attacks on state institutions," the Associated Press quoted Kotevski as saying.
The police launched a search operation in that area early Saturday morning. According to Kotevski, the terrorists were equipped with automatic guns, sniper rifles and bombs.
The Macedonian government is on the ropes over allegations by the opposition of widespread abuse of office and illegal wiretapping.
The opposition leader Zoran Zaev appeared to suggest the drama has been concocted by the government.
Ethnic Albanians demanding state in Macedonia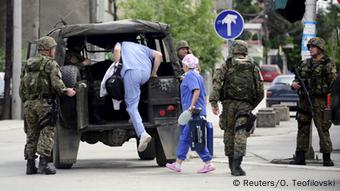 Macedonian police clashed with an 'armed terrorist group' in the town of Kumanova
The incident comes less then three weeks after around 40 ethnic Albanians from neighboring Kosovo seized control of a police station on Macedonia's northern border. They were demanding the creation of an Albanian state in Macedonia.
Ethnic Albanians make up around one quarter of Macedonia's 2.1 million people.
The former Yugoslavian republic of Macedonia is also having an economic crisis, with unemployment rate running at 28 percent.
ra/bw (AFP, AP, Reuters)