Police said Tuesday they were investigating the "unexplained" death of a man in his 60s in London, identified by British media as Nikolai Glushkov, an associate of the late tycoon and Kremlin critic Boris Berezovsky.
"There is no evidence to suggest a link to the incident in Salisbury, said London's Metropolitan Police, referring to the poisoning that has severely strained British-Russian ties.
Read more: EU promises solidarity with Britain
Glushkov was found dead late on Monday at a house in southwest London's New Malden area.
Boris Berezovsky was found dead in 2013 west of London, with a scarf around his neck, after fleeing to London in 2000 following a row with Russian leader Vladimir Putin.
A subsequent inquest failed to determine whether he had killed himself or died from foul play.
Worked for Berezovsky' enterprises
Glushkov once worked for various Berezovsky enterprises, including the flagship Russian airline Aeroflot and the LogoVAZ car company.
Britain granted Glushkov political asylum, reportedly in 2010, after he had been sentenced in Russia for allegedly embezzling millions from Aeroflot.
In 2017, a Moscow court reviewing his case sentenced him in absentia to eight years and Russia's London embassy put him on a list of those wanted for serious crimes whom Britain had refused to extradite.
Poisoning case strains British-Russian ties
News of Glushkov's death comes amid heightened tensions between the London and Moscow over the recent poisoning of a former Russian agent and his daughter.
On Tuesday, British Prime Minister Theresa May said it was "highly likely" that Moscow had attempted to assassinate Sergei Skripal in Salisbury on March 4 using the nerve poison Novichok, developed by the Soviet military in the 1970s and 1980s.
May's accusation has been furiously denied by the Kremlin.
The former double agent and his 33-year-old daughter, Yulia, remain in critical condition in hospital.
Deadline pending
Britain has given Russia until midnight Tuesday to explain how the Russian-made nerve agent came to be used in an English city, or face retaliatory measures.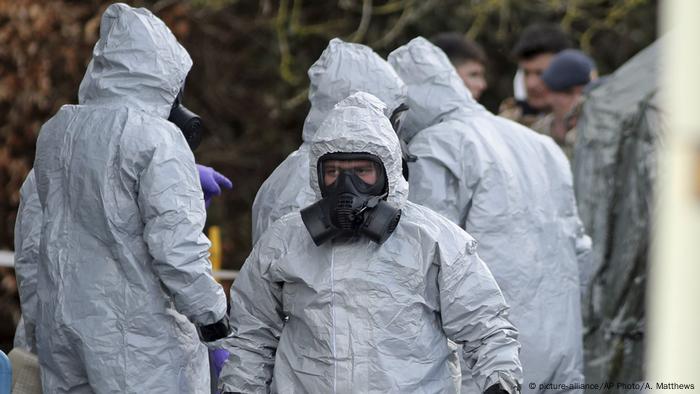 Investigators donned protective clothing in Salisbury
Relations between Britain and Russia have been strained since the murder in London of former KGB agent Alexander Litvinenko, who died in 2006 after drinking green tea laced with radioactive polonium-210.
Solidarity with Britain
Germany's outgoing foreign minister, Sigmar Gabriel, said Tuesday any Russian connection to the Salisbury poising would be a "very serious matter."
"We stand in solidarity on this issue with our British friends," Gabriel said after discussing the matter with his British counterpart Boris Johnson.
ipj/kms (Reuters, AFP, AP)