In a lavish ceremony in St. Peter's Square, Pope Benedict XVI named seven new saints on Sunday, including the first Native American to be canonized, Kateri Tekakwitha, informally known as "Lily of the Mohawks."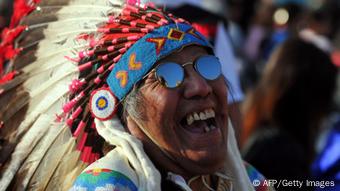 A faithful Native American attends a special mass to name seven new saints in St. Peter's Square
Vatican watchers said the new saints are linked to the Roman Catholic Church's efforts to highlight the need for a "new evangelization," as pews empty across Europe and the United States.
The pope said the newly cannonized saints "lived their lives in total consecration to God and in generous service to their brothers."
Thousands of people, including American Indians, gathered on the square outside St. Peter's Basilica which was decked with portraits of those being canonized.
'Lily of the Mohawks'
Tekakwitha, who has been a symbol of hope for American Indians for centuries, was born in 1656 to an Algonquin mother and a Mohawk father and converted by Jesuit missionaries as a child. After surviving smallpox and being orphaned, she earned a following for her deep spiritualism before dying at just 24.
Another saint to be canonized was the German lay woman, Anna Schaeffer, who was from the pope's home state of Bavaria. Schaeffer, who died in 1925, is credited with spreading the word of God in local villages.
Catholic saints have to have two miracles to their names, which have to be certified by the Vatican in a years-long procedure.
hc/jlw (AFP, KNA)