A six-hour standoff ended on Tuesday when a group of demonstrators were removed from the environment ministry building in Beirut, where they had staged a sit-in calling for environment minister Mohammed Machnouk to step down.
"Out, out, out!" the group of about 30 protestors from the "You Stink" movement had shouted while holed up in a corridor.
Police shut off air conditioning, electricity and bathrooms to try and get the protesters to leave.
"The police used excessive force to expel us from the building," said one of the main organizers, Marwan Maalouf. Hundreds of people had also gathered outside the building. Lebanon's Red Cross reported treating dozens of people injured in scuffles with security forces.
Machnouk, who took refuge in a nearby office during the standoff, has refused to resign from his post, but on Monday did step down from a committee set up to deal with the trash crisis.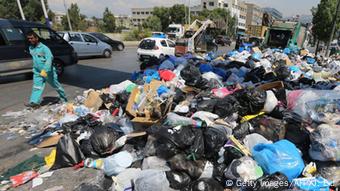 Trash has piled up on Beirut's streets
The "You Stink" campaign was sparked by the failure of Lebanon's government to find a solution for disposing of the country's rubbish after its landfill was closed, which meant piles of trash were left to rot in the summer heat. It has evolved to encompass wider frustrations with the country's government, which has been accused of being impotent and corrupt.
Lebanon's parliament hasn't been able to elect a president since May 2014 amid deep rifts between the country's political groups. The "You Stink" movement and similar campaigns have attracted supporters from across Lebanon's political and religious divide and led to mass protests over the past fortnight. On Saturday, the protesters had presented a 72-hour ultimatum for authorities to meet their demands, including for the environment minister to resign.
Political tensions in Lebanon have been exacerbated by the civil war in neighboring Syria, with Lebanon hosting more than a million Syrian refugees.
se/jr (AP, AFP, dpa, Reuters)