Salam hinted Sunday he might step down after security forces cracked down on anti-corruption protests over piles of uncollected garbage.
Saturday's demonstrations - the largest in years - railed against corruption and dysfunction among Lebanon's political class.
The country does not have a functioning Cabinet or parliament, and hasn't had a president for more than a year.
Prime Minister Tammam Salam said Sunday during a news conference that security forces that used force against peaceful protesters would be held accountable and that the right to demonstrate is protected by the constitution.
Addressing the protesters in a news conference, Salam said he extended his "hand to civil society. I'm ready to listen to you and sit with you."
Security forces crackdown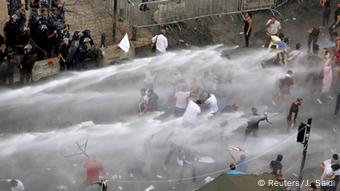 Beirut protesters are sprayed with water Saturday during a protest against uncollected rubbish
Protesters clashed with security forces Saturday evening near government buildings with riot police firing tear gas, water cannon and gunfire to disperse the crowds. At least 16 civilians were injured in the melee. Security forces say 35 police were also hurt.
#YouStink social media rebellion
Demonstrators posted videos and photos on social media of security forces firing into the air and beating back protesters employing the #youstink hashtage via Twitter.
"We cannot allow yesterday's events to pass without accountability and follow-up," Salam said, adding that security services "will be held accountable."
Widespread dissatisfaction has turned to outrage in recent weeks as piles of uncollected waste grow in the capital Beirut and elsewhere since the country's largest landfill shut down on July 17.
Demands posted online on Sunday by the "You Stink" campaign, which has organized recent protests, called for the government's resignation and parliamentary elections.
PM vows to break deadlock
In an admission that the crisis is turning into more than municipal deadlock over rubbish collection, the premier vowed that his cabinet would act quickly to reform the culture of deadlock within the government.
He said the rubbish crisis was the proverbial straw that broke the camel's back.
"But the story is bigger than this straw. This is about the political trash in this country," Salam said. Lebanon's cabinet would meet next week to find a solution to the crisis, railing against the political divisions that have paralyzed the country's institutions.
Protesters remain defiant
You Stink's organising committee member Joey Ayoub told the AFP news agency that the movement demand that the security forces are held accountable. "Our most urgent demand is accountability for the police and army men," Ayoub said. "We will not leave the street until that demand is met."
In a statement posted online, the You Stink movement has called for the prosecution of Interior Minister Nuhad Mashnuq. The minister has said he's authorized an internal investigation to interview police and civilians who were present during Saturday's violence and issue a fact-finding report.
jar/ng (AFP, AP, Reuters)