In an interview published on Sunday, Airbus chairman Tom Enders sharply criticized some television discussions about Tuesday's crash, in which an Airbus 320 came down in the French Alps, killing all 150 people on board.
"What we should critically examine is the mischief that some 'experts' get up to, especially in TV talk shows," Enders told the weekly Bild am Sonntag.
"Sometimes people there speculate, fantasize and lie with no basis in fact," he said, describing many of the opinions expressed as "outrageous nonsense" that constituted "mockery of the victims."
Referring to reports that the co-pilot of the plane appeared to have deliberately flown Germanwings flight 4U9525 into a rocky mountainside, Enders said it was important not to think that the exception was the rule.
"One black sheep does not constitute a herd," he said, adding that the overwhelming majority of pilots were "very reliable" and "excellently" trained.
'Meaningless explanations'
Leading figures in the Protestant Church in Germany (EKD) have also called for caution with regard to speculation on the causes of the crash.
"We will perhaps never know exactly what happened, and we should simply not say anything," Margot Kässmann, the former council chair of the EKD, wrote in an article for the same newspaper.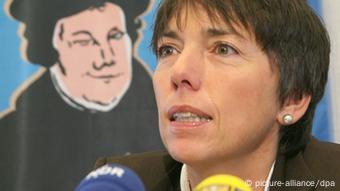 Kässmann says we may never know what happened
She said journalists should heed the same advice and "stop giving us explanations that explain nothing."
The current EKD council chair, Heinrich Bedford-Strohm, also warned in the Sunday edition of the Berlin paper BZ against seeing the co-pilot's actions as being evidence of supernatural evil.
"We should not attribute people's acts to some dark powers or other," he said, adding that "no one knows what abysses of the soul led to this iniquitous act."
Case still open
The mayor of the co-pilot's home town of Montabaur has also called on journalists to exercise restraint toward the man's parents.
"Regardless of whether the accusations against the co-pilot are true, we sympathize with his family and ask the media to be considerate," Edmund Schaaf said, alluding to the crowds of reporters that have gathered in the town.
German state prosecutors and police spokespeople have said there will be no official statements on the case before Monday, and a chief French investigator, General Jean-Pierre Michel, told French media on Saturday that other hypotheses on the cause of the crash must also be examined.
"[We] have no right today to rule out other hypotheses, including mechanical hypotheses, as long as we haven't proved that the plane had no (mechanical) problem," he said.
The European Cockpit Association (ECA), which represents European pilots, said on Saturday that leaks of data from the crashed plane's voice recorder to the media - which led to the allegations that the co-pilot deliberately crashed the plane - were a "serious breach of fundamental and globally accepted international accident investigation rules."
tj/sms (dpa, Reuters, AFP, epd, dpa)